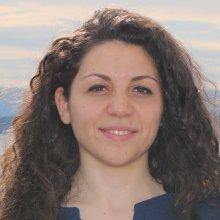 Alessia Caterina Ciraolo
Science/Data Team
Graduate Student / Étudiante diplômée
Memorial University of Newfoundland - Ocean Science Centre
Tell us about your work/research. What kinds of things do you do? / Parlez-nous de votre travail / vos recherches. Quels types de tâches effectuez-vous?
I am working on the deep-sea ecosystems, precisely, I would like to understand how they are disturbed by the cumulative effects of reduced oxygen and bottom trawling. Regarding that, I am going to collect and analyze benthos samples, namely macrofauna, organic matter and bacterial samples because they represent the best indicators for impacted areas.
Je travaille sur les écosystèmes des grands fonds; plus précisément, j'aimerais comprendre en quoi les effets cumulatifs de la baisse des taux d'oxygène et du chalutage par le fond les perturbent. À ce sujet, je vais recueillir et analyser des échantillons de benthos, c'est-à-dire des échantillons de macrofaune, de matière organique et de bactéries, car ils constituent les meilleurs indicateurs pour les zones touchées.
What sparked your initial interest in your career? / Qu'est-ce qui a initialement suscité votre intérêt dans votre domaine professionnel?
I always had a deep passion for the ocean, animals, and the environment so I decided to study Marine Biology in my country and get some volunteer experiences on. After my Master degree, I had the chance to do an internship in Australia for six months, which I think it opened my mind. There, I met many nice, smart and interesting people, most of them were Ph.D. students and others had already taken it. I spent most of my time with them and I loved hearing their experiences related to their Ph.D. career, what they had already done, what they were doing and the opportunities they would have had after that program. So, once I finished the internship, I realized that what I really wanted to do was a Ph.D. in Marine Biology and Ecology because it gives the chance to make your work your passion.
En raison de mon éternelle passion pour l'océan, les animaux et l'environnement, j'ai décidé d'étudier la biologie marine dans mon pays et de travailler comme bénévole pour certains projets. Après avoir obtenu ma maîtrise, j'ai eu la chance de faire un stage de six mois en Australie, qui, selon moi, m'a ouvert l'esprit. Dans ce pays, j'ai rencontré beaucoup de personnes intelligentes, gentilles et intéressantes, qui étaient majoritairement des doctorants ou des docteurs. J'ai passé la plupart de mon temps avec elles et j'ai adoré les écouter parler de leur parcours pour obtenir leur doctorat, de ce qu'elles avaient déjà fait, ce qu'elles faisaient et des occasions auxquelles elles auraient accès après le programme. Ainsi, à la fin de mon stage, je me suis rendu compte que je voulais réellement obtenir un doctorat en biologie et en écologie marine, car j'aurais la chance de faire de mon travail ma passion et de ma passion mon travail.
Who influenced you or encouraged you the most? / Qui vous a influencé ou encouragé le plus?
My family, especially my brother, encouraged me the most.
Ma famille, particulièrement mon frère, m'a encouragée le plus.
What element of your work/study do you think is the most fascinating? / Quel élément de votre travail ou de vos études est le plus fascinant selon vous?
I think the most fascinating element of my work/study is to have the chance to watch the deep-sea areas through a video camera fixed on a robot underwater. Not everyone can do it so I think it will be a rare and unique experience for me. I have never seen them live but only in books. I usually dive to the first metres of the shallow water, which is amazing and I think exploring the deep-sea will be exciting or maybe a bit more.
Je crois que l'élément le plus fascinant de mon travail ou de mes études est d'avoir la chance d'observer des secteurs de fonds marins en haute mer grâce à une caméra attachée à un robot sous l'eau. Ce n'est pas une occasion offerte à tous et je crois qu'elle restera rare et unique pour moi. Je ne les ai jamais vus en vrai, seulement dans les livres. Je plonge habituellement dans les premiers mètres d'eau peu profonde, ce qui est merveilleux, et je crois que l'exploration de la haute mer sera aussi passionnante, sinon plus.
What other jobs led you to your current career? / Quels autres emplois vous ont amenés à votre carrière actuelle?
I think my University background gave me the chance to get my current career because during that time I did different interesting activities both in field and lab work such as Oceanography cruises, volunteering as Marine Mammal Observers and at Marine Turtles Recovery center and diving internships. After that, I also worked for a fishery company and then at the CNR-ISMAR, Ancona.
Je pense que mon expérience universitaire m'a donné l'occasion de poursuivre ma carrière actuelle, parce que pendant cette période, je me suis impliqué dans toutes sortes d'activités intéressantes, aussi bien sur le terrain qu'en laboratoire. J'ai fait des croisières océanographiques, j'ai été observateur bénévole de mammifères marins, fait du bénévolat dans un centre de rétablissement de tortues marines et fait des stages de plongée. Après ça, j'ai aussi travaillé pour une entreprise de pêche, puis pour l'ISMAR du Conseil national de recherches italien, à Ancona.
What are your degrees and certifications? / Quels diplômes et titres de compétences possédez-vous?
Bachelor of Marine Biology and Ecology - University of Messina, Italy, 2010-2013; Masters of Marine Biology - Polytechnic University of Marche, Italy, 2013-2015; Advanced Open Water Diving Patent, Italy, 2012; National Fisheries Observer, Italy, 2016; Qualified as Professional Biologist, University of Messina, Italy, 2017
Baccalauréat en biologie marine et écologie – Université de Messine (Italie), 2010-2013; Maîtrise en biologie marine – Université polytechnique des Marches (Italie), 2013-2015; brevet Advanced Open Water Diver PADI, Italie, 2012; Observateur national des pêches, Italie, 2016; Qualifié en tant que biologiste professionnel, Université de Messine (Italie), 2017
What are your hobbies? / Quels sont vos passe-temps?
During my free time, I would always like to either diving or skating, but it is not always easy to do so. I usually like hiking, reading, going to the gym and meeting my friends.
Durant mon temps libre, j'aimerais toujours faire de la plongée ou du patinage, mais ce n'est pas toujours évident, alors je fais de la randonnée, je lis, vais à la salle de sport et je passe du temps avec des amis.
What advice would you give someone who wants to have a career like yours? / Quel conseil donneriez-vous à quelqu'un qui souhaite faire la même carrière que vous?
If someone wants to have a career like a marine biologist, I think the best thing is to gather as much information as possible on this field, reading books, watching documentaries and especially talking to professional people. It is very important to try keeping up with the news and to understand which area of marine biology you are most involved on. This field may seem small but it is not. You can study the ocean in different aspects, such as ecology, biology, chemistry, physic, engineering etc.
Pour devenir biologiste marin, je pense que le mieux est de rassembler autant de renseignements que possible sur cette discipline, de lire des livres, de regarder des documentaires et surtout de parler à des professionnels. Il est très important d'essayer de suivre l'actualité et de comprendre le domaine de la biologie marine qui vous attire le plus. Cette discipline peut sembler restreinte mais elle ne l'est pas. On peut étudier l'océan sous différents angles, comme l'écologie, la biologie, la chimie, la physique, l'ingénierie, etc.