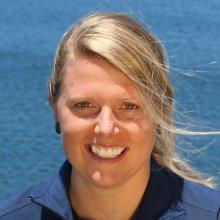 Katelyn Sullivan
Nautilus Ambassador
Education Coordinator
Aquarium of the Pacific
Tell us about your work / research. What kinds of things do you do?
I oversee and develop educational programming at the Aquarium of the Pacific, with the hope of engaging the public around current science research. I continually work to find ways that allow our guests to become excited by science through the act of exploration. Currently, I am focused on ocean plastics. Additionally, I oversee the educational overnight program, where students 2nd through 12th grade come and interact with science content while sleeping over at the aquarium. Each day at the aquarium is different and includes activities that range from snorkeling to performing exploratory dissections to interpreting about our local ecosystems. 
What sparked your initial interest in your career?
I grew up in Philadelphia, not exactly oceanfront, but we spent equal time exploring the city and the shore. I remember playing with my older brother and burying his hot wheels cars in the sand only to discover later that they had been washed out to sea. I vowed to figure out where those cars kept going and spent the remainder of my life learning about the ocean. In college, I received a work study award and began working at a science museum. I don't think I realized at the time of my job acceptance that I was entering my dream career. Initially, I worked educating in our classroom and on the floor of the museum and grew from there developing hands on activities and overseeing program implementation. I loved how different my days were and that I was always learning but I never stop dreaming of the ocean. The aquarium is my opportunity to blend the two things I am most passionate about.
Who influenced you or encouraged you the most?
My parents told my brother and me to dream big and made sure nothing stood in our way. They allowed for exploration, even when that meant trips to the doctors, disassembled electronics, or botched baking soda/vinegar experiments. We learned by doing and that's what science is all about. 
What element of your work / study do you think is the most fascinating?
I love ocean plastic - well I love doing research about it - but I am bummed that it exists. As I work to help tell the story of ocean plastic: how plastic gets into our waterways, what happens when it is there, and where it goes after a year or fifty, I get to do some pretty interesting things. These include diving or sampling to find it and cutting open fish stomachs to see who is eating it.   
What other jobs led you to your current career?
I've had a lot of wonderful experiences in informal education, each building on top of each other and helping me understand the aspects of each position I liked and also those things that I needed to work on. While working as a field instructor at outdoor science school, I spent hours digging out trail paths and taught kids how to rock climb and identify plants. I had known how much I liked teaching from my time at the museum, but it was then that I realized how much I loved being outside. Another opportunity arose to assist a scientist with communication techniques and engagement strategies, and again I had the realization that I was very interested in current research, which led me to the Aquarium of the Pacific where I work to engage guests around current scientific discoveries and exhibitions focused on ocean exploration. 
What are your degrees and certifications?
Bachelor of Arts in English – Temple University 2011; CPR and First Aid Certification; PADI Open Water Dive Certification
What are your hobbies?
I love surfing and diving. When I am not in the water, I enjoy reading, traveling, and trying to perfect taco recipes. 
What advice would you give to someone who wants to have a career like yours?
Get started as early as possible! Go outside and learn about your local ecosystems, discover the animals that inhabitant that area, and ask questions. Science is about seeking answers that aren't in textbooks and pushing the boundaries of what we think is possible. Be patient, give yourself the option to take a deep breath and change your point of view. Jump on every opportunity you have to build on your knowledge or to practice a skill you have acquired. Do things more than once, remember no two dives are the same.  
How did you get involved with the Nautilus Exploration Program? How did you get on the ship?
My former supervisor had just returned from her trip on the Nautilus when we met for the first time. She gave me a cup that had traveled a very far depth into the ocean during her leg of the expedition. I don't think I waited a full hour before I started working on my application to join the ship in some capacity.  
Expeditions
Katelyn participated in the following Ocean Exploration Trust expeditions: