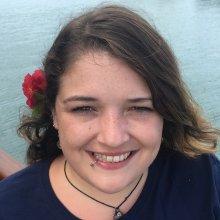 Aileen Bohan
Science/Data Team
Marine Geologist/Hydrographer
INFOMAR, Geological Survey of Ireland
Tell us about your work/research. What kinds of things do you do?
I have just completed a Postgraduate Certificate in Ocean Bathymetry, as part of the GEBCO/NIPPON Training Programme at the Centre for Coastal and Ocean Mapping. The aim of the training programme is to train a new generation of scientists and hydrographers in ocean bathymetry. Prior to that, I had been working as a Marine Geologist with the INFOMAR project. My work consisted of collecting Hydrographic and Geophysical marine data onboard our shallow water research fleet in the summer, and processing and interpreting the datasets in the winter, producing a range of products. This data is then made available to everyone for further research and analysis, along with the primary function of updating our Nautical Charts. 
What sparked your initial interest in your career?
I think growing up on a small island, and always being surrounded by rocky shorelines, sandy beaches, and craggy exposures led to my interest in the marine sciences. When I initially came to University, I was more focused on space and the formation of the Solar System. However, after my first Geology field trip, my eyes were brought downwards, towards the Earth beneath our feet and the mysteries it contains. As part of my Master's studies, I got the opportunity to take part in my first research cruise, investigating sediment redistribution in the Irish Sea, and I haven't looked back since! It's an amazing feeling, to be on a vessel in the middle of the ocean with 4,000 meters vertically beneath you. 
Who influenced you or encouraged you the most?
I've found most people to be extremely encouraging along the way, and everyone keen to share their knowledge and experience once they sense an interest and a passion for the subject. 
What element of your work/study do you think is the most fascinating?
Mapping the unknown; with the instrumentation available today, I get to see aspects of the seabed never previously seen before. The ability to be able to produce maps at a 10cm resolution of a seabed, from meters to miles below the surface and through a vast amount of water. I also find the historical aspect fascinating, such as the past environments, events such as tsunamis and storm surges, and particularly the many shipwrecks. 
What other jobs led you to your current career?
Before joining the GEBCO Training Programme, I was working on the INFOMAR programme with the Geological Survey of Ireland, mapping the shallow waters which surround the island of Ireland. 
What are your degrees and certifications?
Postgraduate Certificate in Ocean Bathymetry - Centre For Coastal and Ocean Mapper/University of New Hampshire 2018; Masters of Science in Exploration Field Geology - University College, Cork 2013; Bachelor of Arts (Honours) in Geology - Trinity College, Dublin 2012
What are your hobbies?
I really enjoy yoga, star gazing, hiking and anything that involves wandering around exposed rocks. I also enjoy swimming and most water activities. I love traveling and meeting new people.
What advice would you give someone who wants to have a career like yours?
Firstly, apply for everything. Don't ever be deterred or intimidated. Secondly, learn to code They are so many resources available online, for free - utilize them! Finally, talk to everyone and enjoy what you are doing.