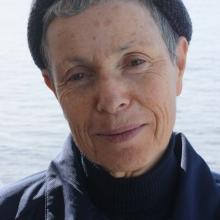 Ahuva Almogi Labin
Geological Survey of Israel
Ahuva Almogi-Labin works as one of the volunteer scientists onboard the E/V Nautilus.
Almogi-Labin is a senior scientist at the Geological Survey of Israel. She uses foraminifera for recognizing the anthropogenic impact on the Israeli Mediterranean shelf. She studies soft and rocky shallow as well as deep-sea sediments of the eastern Mediterranean and Red Sea, using foraminifera and pteropods, for reconstructing the paleoceanography and paleoenvironmental variability during the Quaternary. Currently she examines the influence of the damming of the Nile River on the sedimentary regime of the southeastern Mediterranean.
Almogi-Labin graduated in Geology, followed by MSc in Oceanography and obtained a PhD in Marine Geology at the Hebrew University of Jerusalem, Israel in 1981.