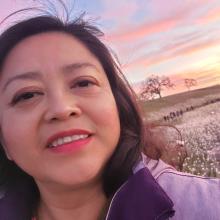 Afrodita Fuentes
Science Communication Fellow
Biology Teacher
South Gate High School
Tell us about your work/research. What kinds of things do you do?
I love being a High School Biology because I get to help students explore topics that impact our daily lives. During the fall semester, my students usually have opportunities to explore the composition, complexity, change, and importance of ecosystems. To do this, I take students on hikes in our local ecosystems, parks, and mountains, to see the actual living and living things and how they relate to each other. My students also get to create small ecosystems like school gardens that provide us with some vegetables and fruits to eat. We learn about larger ecosystems such as farms and mountains and understand how they provide us with ecosystem goods and services such as food, medicines, building materials, and even the oxygen we breathe. During the spring semester, my students usually feel more confident in their skills and their role in the class and ask more questions and even suggest topics for study. Interestingly enough, the human body is the most popular topic, as students seek understanding in how it forms in the womb, develops through stages resembling previous generations, maintains itself when attacked by disease and until it dies. At this point in the school year, my students feel like they have control of their own learning as their curiosity is driving their motivation to learn. Ultimately, my goal is to help students realize that our healthy ecosystems provide us with constant, balanced, and healthy goods and services that support our human populations in the entire Earth. Biology is us, the food we eat, the air we breathe, and even the things that make us sick and healthy again. If we understand biology a little better, we can enjoy a better, healthier, and richer life.
What sparked your initial interest in your career?
I always wanted to be a teacher because in my hometown in Guatemala there was only one teacher at our small school; she taught 1st to 6th grade every day. Every Friday was my favorite day because all, about fifty, of us sat on the floor around her, listening to her tell us stories and fairy tales. My Life Science teacher in seventh grade also inspired me to become a teacher. She loved to show us her home garden and I enjoyed her projects that involved the collection and classification of leaves and flowers. And as I grew older, I began to feel the sadness that came when my family members and friends got sick and died, so I began to seek explanations of how the human body worked or didn't work. For some time, I became interested in becoming a nursing professor, but then I found out that exploring the world as a Biology Teacher with younger generations would be like opening endless doors of possibilities with countless directions. Some of my former students have discovered their career interests while in my Biology classes. Zao was learning English during 10th grade, started volunteering at a local hospital and got to observe brain surgeries. His goal was to become a doctor. Miguel became interested in environmental engineering while we built our school garden, Carolina and Karina decided to major in epidemiology when they read the book "The Hot Zone". It is absolutely amazing to be able to guide students to discover their passions and maybe even find their purpose in life.
Who influenced you or encouraged you the most?
My first teacher inspired me to become a teacher and my seventh-grade teacher helped me find my passion to become a biology teacher. My parents demanded the hardest work from me on the farm and I knew I did not want to do that level of physical work the rest of my life. My parents made that very clear as well, so they helped me do my best in school. My college professors nurtured my desire to also become a teacher and also be an invested mentor to my students. My current students and my new experiences keep being my inspiration to continue sharing my knowledge with the next generations, as our world is constantly changing.
What element of your work/study do you think is the most fascinating?
The most fascinating element of my work is observing my students' first reactions when doing something for the first time: harvesting, tasting the freshest food standing in a school garden, feeling the fresh air in the middle of the mountain or smelling the soil and plants after the rain. When pulling carrots out of the soil, they can't believe that carrots exist in different colors and grow so deep in the soil. When digging in the soil to find the first potato of the harvest, some of my students discovered that the deeper they dig the biggest the potatoes they find. Some of my students have been impressed with the variety of tomatoes we have grown in the garden and how sweet and fresh they taste along with strawberries. My students have also discovered how dark green and tasty salads can be without depending only on the iceberg lettuce available in their supermarkets. Parents and teachers have been impressed with the unique and tasty "farm-to-table" meals my students have prepared for parent/family conferences. Refining and writing recipes have also been unique activities. During parent conferences and open-house days at school, my ninth graders get to carry out lab activities for their families. This is a special platform for students to show their parents how much they are learning and parents also share how much they already know about the topics discussed in class. Parents and students are impressed with each other's knowledge. All of these experiences always give my students a sense of discovery, confidence, accomplishment, and success.
What other jobs led you to your current career?
I have been an educator since 1999. As a college student, I tutored students after school and then I worked part-time as a Teacher Assistant. These two jobs showed me that I was capable of handling a classroom and gave me the confidence to keep working with youth. In addition to teaching the Biology curriculum, I also get to teach other classes such as health, physiology, environmental science, classes that reflect our daily lives. I also get to be a mentor to my students as they begin to explore careers and apply to colleges. In addition, I see the importance of finding and maintaining partnerships with individuals and local organizations with opportunities that enrich our lives in the classroom.
What are your degrees and certifications?
Horticulture Certification & Gardening Authorization, May 2018, UCLA Extension; Sierra Club Certified Hiking Leader, Spring 2012; Master of Arts in Science Education, May 2008, California State University, Northridge; California Credential in Single Subject Biology, June 2003, Mount St. Mary's College; Bachelor of Science in Biology, Minor in Chemistry, May 2001, Mount St. Mary's College
What are your hobbies?
I love gardening, harvesting, and gifting my harvests. Cooking my harvests with family and friends is also one of my favorite activities. Nature: beach walking, hiking, camping, and participating in habitat restoration efforts bring me so much satisfaction and peace. Yoga, new places and new experiences also help me focus and rejuvenate.
How did you get involved with the Ocean Exploration Trust?
A colleague invited me to a workshop to learn about oceans. When I arrived at the location, I was thrilled to see an amazing team of explorers, scientists, engineers, and teachers in navy blue polo shirts. As other teachers and I participated in the different activities and the tour of the E/V Nautilus, I began to understand that I was in for an amazing opportunity to be part of Ocean Exploration Trust (OET). I was even more inspired to be part of this team, when I heard several members, including the data engineer and Argus Pilot, shared their passions to work aboard the Nautilus. This day, I learned about my opportunity to become a Science Communication Fellow for OET. I am now honored to be part of this team!
What advice would you give someone who wants to have a career like yours?
If you want to be a high school teacher, make sure you love and believe in your subject matter because you will spend the rest of the time setting up routines, expectations, and motivational strategies. Spend some time with teenagers and see how you like it. Dedication, commitment, discipline, and preparation are a must because when students walk in your class you need to be ready in mind, body, and soul or you will waste time and miss opportunities to engage students in meaningful learning. You will never have a boring day; teenagers are always testing you and making you laugh, sometimes all at the same time! Combining life in the classroom with life outside the classroom, makes school relevant, up to date, visible, purposeful, and interesting to teenagers, so partnerships with individuals and organizations are vital to a successful and fun student life and long-lasting teacher life.