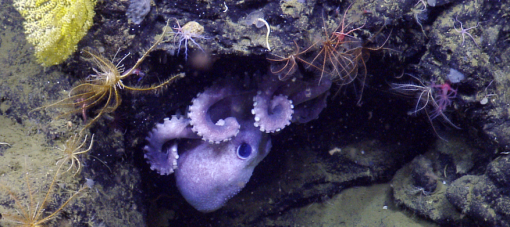 Ocean Exploration Trust
Arriving back to the US West Coast after two months exploring among the Hawaiian Islands Archipelago, E/V Nautilus will launch the next expedition of the season from San Francisco, CA. From October 21-31, 2018, Nautilus is partnering with the Monterey Bay National Marine Sanctuary (MBNMS) to characterize habitat, species, and communities of an unexplored, deep-water region of basaltic rocky reef that resides southeast of Davidson Seamount within MBNMS boundaries. NOAA MBNMS Research Specialist Chad King will serve as Lead Scientist for this expedition, with Expedition Leader Dwight Coleman, Director of University of Rhode Island's Inner Space Center. Support for this expedition comes from NOAA Office of Ocean Exploration and Research, with research partners including NOAA MBNMS, Monterey Bay Aquarium Research Institute, and Applied Marine Sciences. Meet the expedition team.
An Oasis in the Deep
Davidson Seamount is an inactive volcanic undersea mountain habitat off the coast of central California, 129 kilometers to the southwest of Monterey. It is one of the largest known seamounts in U.S. waters at 42 kilometers long and 13 kilometers wide. From base to crest, the seamount is 2,280 meters tall--almost as tall as the Sierra Mountains--yet its summit is still 1,250 meters below the sea surface. The seamount has been called "An Oasis in the Deep" in an otherwise flat seafloor, hosting large coral forests, vast sponge fields, crabs, deep-sea fishes, shrimp, basket stars, and high numbers of rare and unidentified benthic species.
As Davidson Seamount rises high in the water column from its base, it may create current patterns that support life on, around, and above the seamount. Recent research suggests that this pristine area, with ancient and fragile species like deep-sea corals, may be an oasis necessary for maintaining healthy coastal populations in the MBNMS, and it is important to characterize the range of these populations on adjacent hard substrate habitat. Surveys here could potentially reveal habitats and communities different from elsewhere in the sanctuary and Davidson Seamount itself, and possibly even species new to science.
Although the seamount has been explored to a moderate amount, there exists an area to the southeast comprised of linear ridge-like features and several domes comprised of volcanic rock. This area was mapped in better detail by E/V Nautilus in 2017, with features noted rising abruptly towards the surface--suitable habitat for corals and sponges. Although this area is connected volcanically to Davidson Seamount, it is unique in comparison to other areas from the abyssal plain that surround the seamount.
What's in a Name?
Davidson Seamount was the first to be characterized as a "seamount" in 1938 by the United States Board on Geographic Names, and was named in honor of the United States Coast and Geodetic Survey scientist George Davidson, a leader in charting the waters of the west coast. The seamount has special national significance relative to ocean conservation, ecological, scientific, educational, aesthetic, and historical qualities, and was even featured in an episode of BBC's "Planet Earth" in 2006.
In 2008, Davidson Seamount was added to Monterey Bay National Marine Sanctuary, making it the first seamount to be protected in U.S. waters and adding 775 square miles to the total area of MBNMS, increasing it up to 6,094 square miles. Driving Davidson Seamount's inclusion into the sanctuary boundaries was the discovery of communities of long-lived deep sea corals and sponges during several expeditions among a collaboration of Monterey Bay Aquarium Research Institute, MBNMS, and NOAA researchers.
Deep Water Data Collection
Additional research goals for this expedition include collecting data to further understand the environmental conditions in deep water habitat and further understand the deep as a sink for PCBs and organochlorine pesticides that come from land. Ongoing research into levels of toxic compounds like poly-chlorinated biphenyls (PCBs) in fish living in the upper water layers compared to deep-sea fish within the same geographic area shows that deep sea fish often have higher concentrations in their tissues. Sampled fishes from the abyssal rocky reef, water samples and sediment samples taken during this expedition will be analyzed for PCBs and organochlorine pesticides such as DDT.
In addition, a baited Deep Ocean Dropcam from National Geographic Society Exploration Technology Lab will be dropped to muddy or sandy seafloor for in-situ video recording. This autonomous lander style imaging system can travel to a depth of up to 6000m, with high efficiency LED lighting and a 4K camera with batteries that can take up to 6 hours of footage. After many hours capturing video on the seafloor, the Dropcam floats to the surface where the team can recover it and prepare for another deployment.
Expedition Objectives
Use a remotely-operated vehicle (ROV) to complete initial surveys of the unexplored rocky habitat and unexplored areas on the summit and slopes of the Davidson Seamount.

To characterize the area and document distribution and abundance of deep water corals, sponges, fishes and other biota.

Collect biological samples of deep-sea corals and sponges and associated species for species identification, age, growth rates, and climate influences.

Document associations of fish, deep-sea corals, sponges, rocky substrate.

Analyze observations to characterize habitat and species in abyssal rocky reefs, and provide the information to NOAA, other scientists, and the public.

Collect sediment samples to analyze for the presence of persistent organic pollutants (PCBs, organochlorine pesticides such as DDT, and flame retardants).

Collect water samples at depth to analyze for the presence of persistent organic compounds (PCBs, organochlorine pesticides such as DDT, and flame retardants).

Drop the National Geographic Dropcam in relatively flat and muddy areas with bait to attract scavengers and predators.

Secondary objectives will be to collect new fine scale multibeam and backscatter data in the southern portion of MBNMS.

If time permits between ROV dives, multibeam mapping will take place in the southwest corner of the Davidson Seamount Management Zone.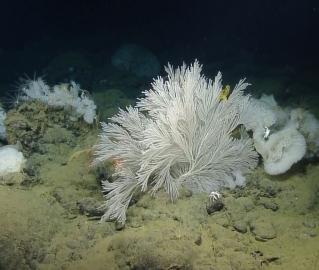 Expedition
The main objective of this expedition is to characterize an unexplored, deep-water region of basaltic rocky reef that resides southeast of Davidson Seamount, within the borders of Monterey Bay National Marine Sanctuary (MBNMS) to characterize habitat, species, and communities. Although extensive previous ROV dives have occured on the seamount proper, there is deep rocky habitat southeast of the seamount that could harbor additional communities of corals and sponges.