Blog:
Artists at Sea: An Ongoing Feature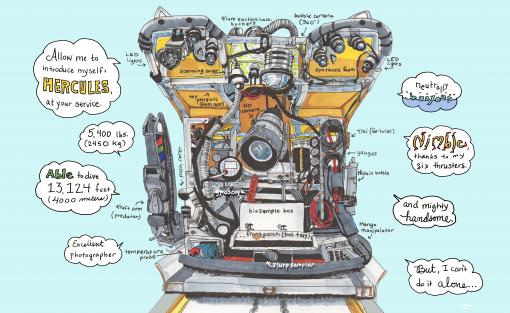 Karen Romano Young
E/V Nautilus is hosting two very special team members who, in addition to their roles as science communication fellows, will be making art during the transit from Galapagos to San Diego, currently underway. Karen Romano Young and Rebecca Rutstein are accomplished artists in their fields. Karen is a writer and illustrator, with more than two dozen children's books in her body of work, and Rebecca's work traverses painting, installation and sculpture to create large scale abstractions inspired by geology, mappings and the undercurrents that shape our world.
We'll be posting the work they produce during the transit, along with some of their past work here, so stay tuned!
Rebecca's New Work
Galapagos Seamounts


Nicole's Caldera

Lazaro Cardena Canyon


Northern Mexican Coast

Rebecca's past work
Sky Terrain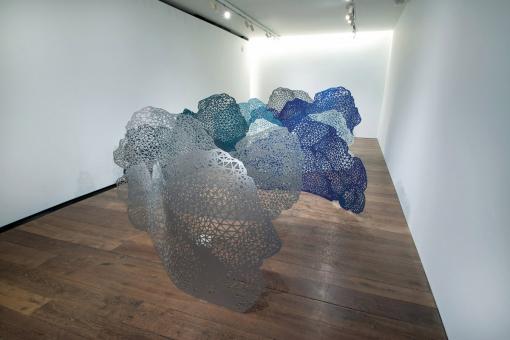 Blue Hour
Suspension of Disbelief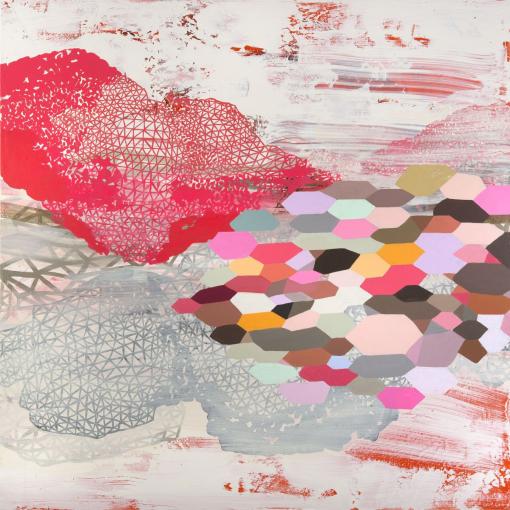 A Note from Rebecca
It is such an honor to be on board the Nautilus as one of the first Artists at Sea! I am continually inspired by geology, mappings and the undercurrents that shape the world we live in. To witness a live feed of ocean floor topography uncovered – in real time – before our eyes through state-of-the-art sonar mapping technology has been incredible. We have seen canyons bigger than the Grand Canyon, discovered brand new seamounts and laid eyes upon immense submarine volcanoes. We never know what we might encounter next! To be at sea and have the opportunity to work with scientists as well as this live data is an adventure of a lifetime. While on board I will be talking ship-to-shore about the explorations of the Nautilus, and creating paintings that share the wonder of ocean floor mapping, a distant world that we can "see" through sound. 
To see more of my work, go to rebeccarutstein.com or bridgettemayergallery.com
Karen's Work
Hercules (phase 1)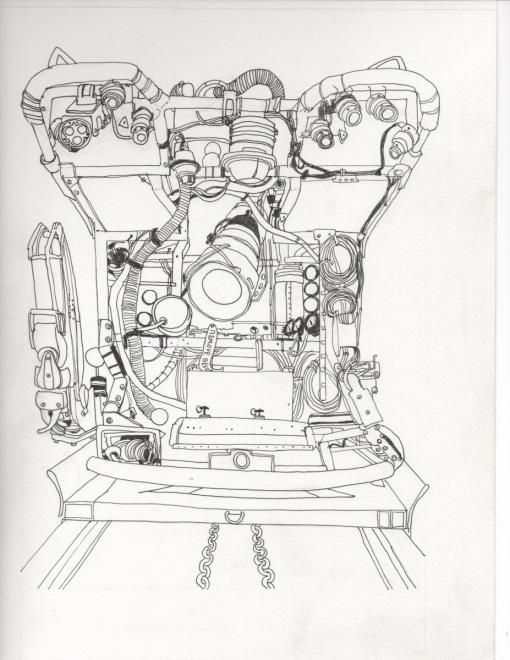 Credit
Karen Romano Young
Hercules (phase 2)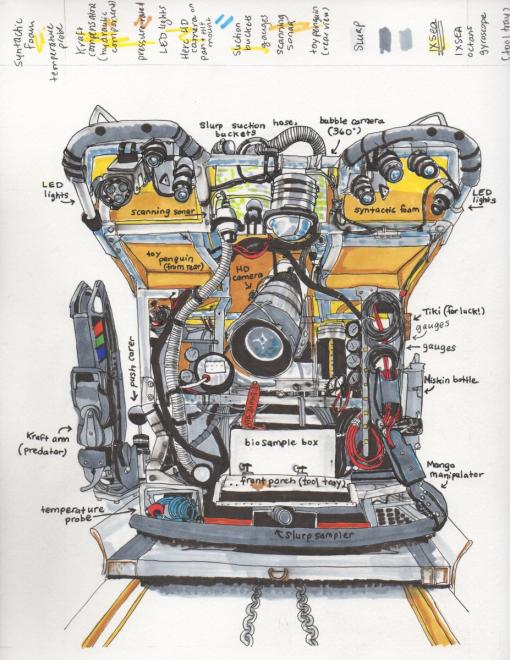 Credit
Karen Romano Young
Hercules (phase 3)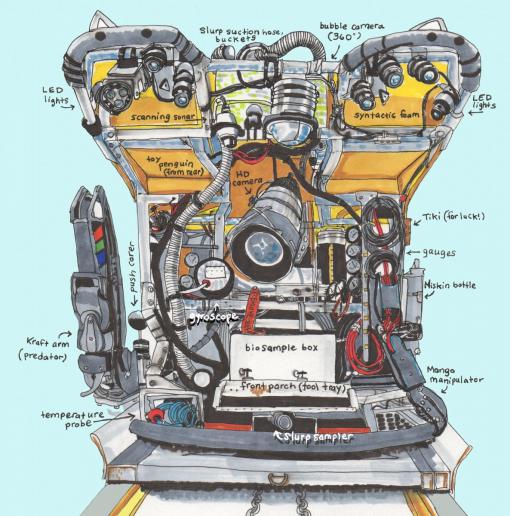 Credit
Karen Romano Young
A note from Karen
I'm thrilled to be aboard Nautilus once again as an Artist at Sea (as well as a science communication fellow)!  I'm just getting starting on this year's art – comic-style illustrations that will become murals – and will be posting progress reports, photos, and maybe even a video.  Meanwhile, here are three phases of a comic done to introduce our favorite ROV, Hercules.  
One of the challenges of telling the story of Hercules's work on the seafloor is learning all his components and tools. The way I learned them (and the way I learn a lot of things) is my drawing.  If you want to draw something, you really have to know what it looks like. Looking closely helps you figure out how pieces relate to one another. And understanding those relationships gives you insight into how things work.  If you want to check how much you know about a thing, try drawing it! 
Besides these comic illustrations, I'm working on a new book about deep sea exploration while I'm aboard Nautilus for the next four weeks.  For more about my comics – Humanimal Doodles – and my books, visit me at karenromanoyoung.com 
And as always, keep checking in with me at NautilusLive.org!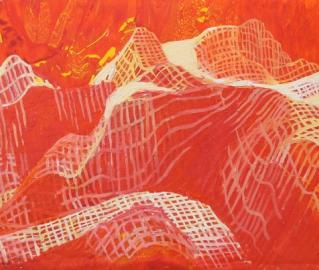 Expedition
For this leg of the expedition we will transit from Baltra to an area 1000 nm west of Colima, Mexico to international waters, where there are two sites of interest for seafloor mapping. E/V Nautilus will use its hull-mounted multibeam echosounder to survey each site and create a map to show the acoustically-derived bathymetry of the area.