Photo album:
Nā Kiʻi o Ka Waihona ʻāina: Topography Laying the Foundation for Deep Sea Diversity
The geological formations of Johnston Atoll and the Pacific Remote Islands Marine National Monument (PRIMNM) capture the unique diversity of this deep sea environment. In the depths of our ocean, you can find sheets of rock sprinkled with sediment amongst ridges of manganese-rich basalt pillows that provide rich habitats for the deep sea organisms that reside in these spaces. Large columnar-jointed structures tell the story of how lava flows billowed out from the seafloor and cooled to create these dramatic shapes. The limestone formations speak to the remnants of seamounts that were once above sea level that have now retreated to the deep to provide more space for the marine organisms that call this realm home. And finally the basalt fragment gardens that share space with the nutrient rich sediment scatter across the ocean floor. Among this garden are large lobate rock structures that are abundant in life and diversity. The diverse topography of this realm captures the genealogical story of the deep sea environment of Johnstonʻs Atoll and the cultural and environmental uniqueness of this realm. 
Album compiled by Science Communication Fellow: Hōkūokahalelani Pihana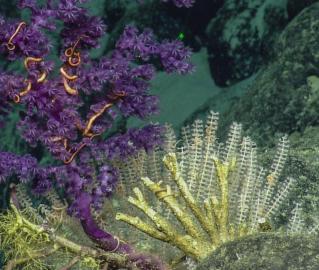 E/V Nautilus Expedition
Johnston Atoll, one of the most isolated atolls in the world, is located in the central Pacific Ocean, between the Hawaiian Islands, the Line Islands, and the nation of Kiribati. Around this atoll, the Pacific Remote Island Marine National Monument (PRIMNM) was expanded in 2014 to protect the full 200 nautical mile perimeter of the exclusive economic zone (EEZ) encompassing many unexplored seafloor features.