Video:
American Sign Language Intro to Ocean Exploration and E/V Nautilus
Guided by Lead Science Communication Fellow and professional educator of Deaf and hearing science lovers Christopher Clauss, learn all about Ocean Exploration Trust and how we explore the ocean in American Sign Language. Curious about life onboard our exploration vessel (E/V) Nautilus? This video shares why we explore the ocean, some of the engineering and science tools onboard, and all the different people who come together to make it happen. Join Christopher in the spaces where ocean explorers work to see how the team maps the seafloor, collects deep sea samples, and operates a 68m ocean-going vessel. 
OET's Science Communication Fellowship program immerses educators in the Corps of Exploration and empowers them to bring the excitement of ocean exploration to learners and communities around the world, especially those historically marginalized from STEAM. The program is supported by the Office of Naval Research's STEM Program.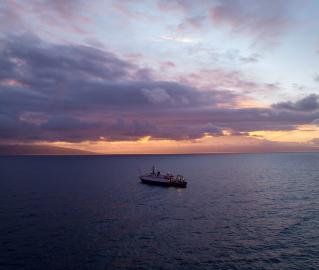 E/V Nautilus Expedition
This expedition is a seafloor mapping transit to bring the E/V Nautilus from British Columbia back to the Central Pacific where the ship will operate for the remainder of the 2023 field season. This 12-day transit route will fill gaps in seabed mapping within and beyond the U.S. EEZ and thereby support priorities of Seabed 2030 and the US National Strategy for Mapping, Exploration, and Characterization.