Video:
SS Coast Trader: Wreck Survey
E/V 
Nautilus
 and the Ocean Exploration Trust, partnering with NOAA's Office of National Marine Sanctuaries had a unique opportunity to conduct the first dive and obtain the first look at ship torpedoed and sunk by the Imperial Japanese Navy off the West Coast in the early months of WWII. 
The loss of SSCoast Trader on June 7, 1942 happened at a time when the coast was gripped in fear. Within two weeks of the torpedoing of Coast Trader, surface attacks on a Canadian lighthouse and an American  coastal fort by submarine deck guns brought the first enemy shells to hit American and Canadian soil since the War of 1812. 
These activities brought the war "home" in a way that Pearl Harbor had not. The Navies of the United States and Canada were responding with extensive ship and air patrols and black-outs. Censorship was rampant – and the loss of Coast Trader was officially attributed to an "internal explosion." At the same time, the wartime incarceration and forced relocation of the coast's Japanese-American and Japanese-Canadian population was nearly complete, with the attacks by submarines off the coast evidence to its proponents of what they perceived as the clear and present danger of their Japanese population.
SS Coast Trader was built in 1920 to the wartime model of "emergency fleet" ships built in response to losses to German U-boat activity in WWI. After an undistinguished career, the freighter was carrying newsprint as it departed the Straits of Juan de Fuca when attacked by the submarine I-26. Sinking in less than an hour, Coast Trader's crew took to lifeboats in extreme weather. One man died of exposure in the boats, while the remainder of the crew were rescued and towed to Neah Bay, 30 miles distant, by a fishing boat.
The wreck's location was identified by a Canadian Hydrographic Service survey. A multi beam image shows the wreck resting on the seabed, substantially intact. No one has dived to assess the wreck until now.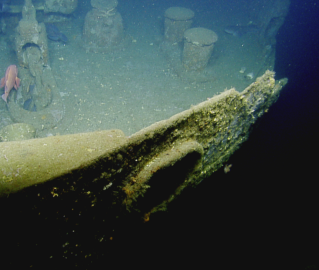 Expedition
Methane is a powerful greenhouse gas and an important commercial resource that fuels many elements of our lives on land. Scientists are beginning to understand the complex and varied ways methane fuels life beneath the sea as well. Nautilus will study methane seep habitats along the length of the Cascadia Subduction Zone, from southern British Columbia to northern California.