Video:
ROV Hercules Explores Below the Surface of Brine Pool
Brine pools are underwater lakes on the ocean floor formed by dense salty brine which refuses to mix with the seawater above. In this video, ROV Hercules takes a dip in one such pool, pushing hard with its thrusters against the especially high buoyancy of the pool to bring its cameras below the surface.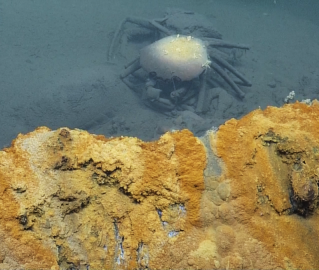 Expedition
This cruise continues our exploration throughout the Gulf of Mexico region, investigating biologic, geologic, and archaeological sites. We will explore and characterize a variety of seafloor habitats across upper slope, mid-slope and lower slope depths, including hard substrate coral habitats, hydrocarbon seeps, brine pools and, time permitting, mud volcanoes. The overarching goal of this cruise is the exploration of biological communities and associated geochemical and isotopic records of carbon cycling.