Video:
Deep Sea Isopods Look Like Huge Rolly Pollies
The team encounters a lot of deep sea isopods on the seafloor that look like huge "rolly poly" bugs. Part of the same order, Isopoda, as their land-based relatives, these organisms are ancient with their first appearance in the fossil record being 300 million years ago.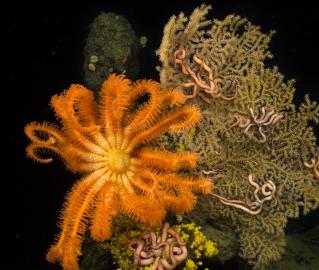 Expedition
The ECOGIG group, funded as a part of the Gulf of Mexico Research Initiative (GoMRI), is looking at both natural oil and gas seepage into the Gulf of Mexico and ecosystem responses and effects directly attributable to the Deepwater Horizon oil spill of 2010. On this cruise, we will focus on deep-sea corals, their associated communities, and their response to the oil spill.