Video:
Rare Sperm Whale Encounter with ROV
At 598 meters (1,962 ft) below the Gulf of Mexico off the coast of Louisiana, ROV Hercules encountered a magnificent sperm whale. The whale circled Hercules several times and gave our cameras the chance to capture some incredible footage of this beautiful creature. Encounters between sperm whales and ROV's are very rare.
For more alerts on when we're diving and amazing discoveries, follow on us on Facebook at http://www.facebook.com/NautilusLive and on Twitter at http://www.twitter.com/EVNautilus.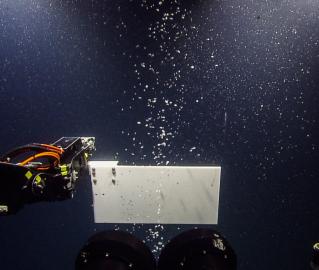 Expedition
What impact do natural hydrocarbon seeps have on the ocean and atmosphere? This is one of the key questions we'll be investigating on this leg of the expedition. This expedition is part of the Gulf Integrated Spill Response (GISR) Consortium, funded by the Gulf of Mexico Research Initiative (GoMRI). The vision of the GISR Consortium is to understand and predict the fundamental behavior of petroleum fluids in the ocean environment.