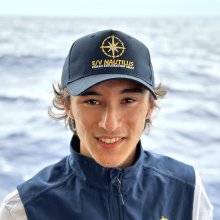 Wren Sakai
He/Him
ROV Engineering Intern
Graduate Student
Carnegie Mellon University
Tell us about your work/research. What kinds of things do you do?
I am a mechanical engineering master's student at Carnegie Mellon University. Before attending CMU I completed my Bachelor of Science in Robotics Engineering from the University of California, Santa Cruz. Go Slugs! I am currently focused on completing classes for my master's, but my past work has involved designing, fabricating, and testing underwater robotics systems.
What sparked your initial interest in your career?
In college, I happened onto a ragtag group of engineering students who were founding an underwater robotics team to participate in the Marine Advanced Technology Education (MATE) competition. I was eager for a hands-on project and ended up joining that group as their mechanical lead. Four years of absolute chaos and fun followed as I became more and more interested in the technical aspects of underwater robotics. All the while I pursued internships and opportunities to learn more about the niche field. I had been hooked!
Who influenced you or encouraged you the most?
During high school, I joined a robotics team that was led by an amazing teacher. She helped me gain the confidence and technical skills to pursue a career in robotics. I really don't know what I would be doing right now if it wasn't for her influence!
What element of your work/study do you think is the most fascinating?
I am fascinated by the challenges of engineering in remote or extreme environments. Working in a lab is one thing, but venturing out into the field introduces lots of added complexity. I love intertwining the engineering of a system with the planning and adventure of deploying said system in the field. This is one of the main reasons why I love underwater robotics so much. By nature, underwater robots get engineers out of the lab and into the ocean!
What other jobs led you to your current career?
I have worked as a Robotics Engineer for a mariculture company as well as a systems engineer for a company that produces underwater technologies for divers and researchers. I was also a student lecturer for a class on Computer-Aided Design (CAD) and a backpacking guide. I strongly believe that my teaching and outdoor experience have been equally as important as my engineering positions.
What are your degrees and certifications?
Bachelor of Science in Robotics Engineering -- University of California, Santa Cruz 2022; Rescue Diver -- PADI 2021; Dry Suit Diver -- PADI 2021;
What are your hobbies?
I love any activity that gets me outside and exploring remote areas! In particular, I love backpacking, climbing, SCUBA diving, and spearfishing. I am also a huge Dungeons and Dragons fan.
What advice would you give someone who wants to have a career like yours?
For anybody interested in an ROV Engineering Position, my advice would be to believe in yourself and never assume that you are "not good enough" for a position. If you work hard and conduct yourself ethically, you really can accomplish anything. Take the initiative to gain the skills and education you want and don't give in to imposter syndrome!
How did you get involved with the Ocean Exploration Trust?
While in my undergraduate program I participated in the Marine Advanced Technology Education (MATE) competition. It was through a MATE newsletter that I first learned about the ROV Engineering Internship. Having watched OET broadcasts in the past I jumped at the opportunity to apply. A few application cycles (and a pandemic) later I had been excepted to my first expedition!
Expeditions
Wren participated in the following Ocean Exploration Trust expeditions: