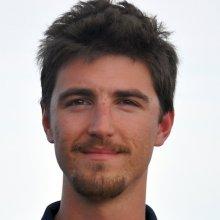 William Snyder
Science/Data
Graduate Student
University of Rhode Island
Will is an Ocean Engineering graduate student at the University of Rhode Island specializing in ocean instrumentation. His work is focused on creating software and control systems for a variety of autonomous underwater vehicles. Recently this includes a Lagrangian imaging platform for near-bottom surveys and a novel towed profiling vehicle for mapping thermohaline structure. This will be Will's second season aboard the Nautilus as data engineer.  
Will graduated from the University of Rhode Island with a B.S in Ocean Engineering in May 2013 and returned to pursue a masters degree in Ocean Engineering. 
"I grew up fascinated by ocean exploration and I'm thrilled to be supporting the technology that makes it possible today, and outreach that will captivate new minds with the mysteries of the deep and drive exploration in the future."
Expeditions
William participated in the following Ocean Exploration Trust expeditions: