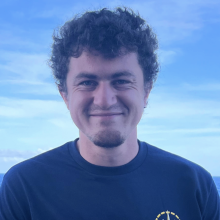 William Pardis
Mesobot Engineer
Engineer II
WOODS HOLE OCEANOGRAPHIC INSTITUTION
Tell us about your work/research. What kinds of things do you do?
My technical training is in electrical engineering, but by the circumstance of oceanographic technologies, I find myself covering the scope of operations, mechanical design, electric hardware and software design. My interest is in facilitating fundamental science through technology and engineering. Specifically, the majority of my work has been in the development of chemical oceanographic sensors/analyzers. I find developing useful tools based on fundamental physical principles for the transduction of characteristics of our environment particularly interesting.
What sparked our initial interest in your career?
My interests started with the study of fundamental math and physics at Flathead Valley Community College in Kalispell MT. I can even trace it back to an unconventional proof of conservation of kinetic energy using seemingly unrelated mathematical relationships. I find the nature of our universe captivating. Practically I got involved working with my physics professor on an optical sensor to analyze cloud structure. The study of electrical engineering was a natural coherence of math, physics, and a practical utility. This work and study stemmed from development of an oceanographic sensor and relationship that eventually directed me to work at Woods Hole Oceanographic.
Who influenced you or encouraged you the most?
If I have to pick an individual Dr. David Long, Flathead Valley Community College, but in reality, there is not enough time to list and weigh all those who have contributed to where I am today. For this I am grateful.
What element of your work/study do you think is the most fascinating?
Seems limiting to specify. Our work has a lot of span and depth. I am doing something wrong if I am not learning a lot every day. To answer I would say what is most fascinating are likely the thing not yet understood.
What other jobs led you to your current career?
From my job at the Doughnut Hole when I was 15 to plowing snow in MT all these things are relevant to my current position.
What are your degrees and certifications?
Bachelor of Science in Electrical and Computer Engineering -- Montana State University 2019
What are your hobbies?
I do a lot of sailing, have been living on my 38' Hughes Northstar in the summers in Woods Hole, and am headed to Maine this summer after the cruise and another trip. Currently building a little Shellback sailing dinghy
What advice would you give someone who wants to have a career like yours?
Do it, but consider it more than just your career.
Expeditions
William participated in the following Ocean Exploration Trust expeditions: