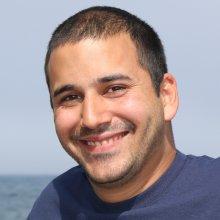 William Glatt
Science/Data Team
Ocean Networks Canada
Tell us about your work / research. What kinds of things do you do?
I work with ONC to maintain all of our various instrumentation assets, ranging from sub-sea platforms to ship-mounted data acquisition systems.
What sparked your initial interest in your career?
 I grew up reading science fiction classics such as Issac Asimov's "Foundation" and Frank Herbert's "Dune". Additionally, I was heavily involved in the Royal Canadian Sea Cadets where I developed an aptitude for working on small vessels. My interest in marine technology started out by combining these two passions. So much of our Ocean is yet to be explored I was drawn to the technology that enables us to do so.
Who influenced you or encouraged you the most?
Initially, my father, who grew up enthralled by Jacques Cousteau, encouraged me to get involved in the Canadian Sea Cadet program. Then eventually mentors from the School of Ocean Technology at the Marine Institute of Newfoundland, Richard Vandervoort, Jai Ragunathan and Paul Brett, provided me with all of the necessary tools to pursue my current career.
What element of your work / study do you think is the most fascinating?
I worked for two seasons with RPM Nautical Foundation in the Mediterranean searching for Ancient shipwrecks. As an ROV pilot, I assisted in the recovery of multiple artifacts from these wrecks that were then used to identify the ships origin, cargo and time period.
What other jobs led you to your current career?
I feel that the jobs that contributed the most to my current position include Sailing Instructor, Team leader for a Salmon Restoration project, Research Assistant in Marine litter and ROV pilot/tech intern. 
What are your degrees and certifications?
Technician Diploma - ROV Pilot/Tech - 2014 - Marine Institute of Newfoundland, Diploma of Technology - Underwater Vehicles - 2016 - Marine Institute of Newfoundland, Bachelor of Technology - 2016 - Memorial University of Newfoundland
What are your hobbies?
I enjoy hiking, biking, and sailing in my spare time.
What advice would you give to someone who wants to have a career like yours?
Prepare yourself for lifelong learning, the technology in this field is constantly changing. 
Expeditions
William participated in the following Ocean Exploration Trust expeditions: