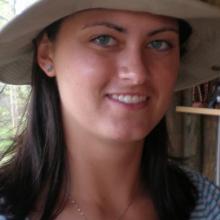 Whitney Morris
Video Engineer
Middle Tennessee State University
Whitney Morris works as one of the video engineers onboard the E/V Nautilus.
Whitney works freelance as a production assistant and coordinator for various jobs including talent escort coordinator for the CMA Awards for the past two years. Whitney has worked as an on-field announcer for live events including the National Championships for Professional Softball and a website developer for Professional Sports Teams. This is her first time working onboard the E/V Nautilus.
Whitney graduated from Middle Tennessee State University in May of 2011 with a degree in Electronic Media Communication, concentration of Production, and a minor in Foreign Language and Translation of Spanish.