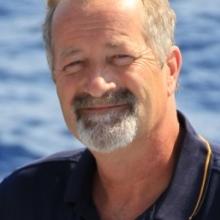 Wes Smith
ROV Pilot
Marine Institute of Memorial University of Newfoundland and Labrador
Wes is one of the Navigators on board the E/V Nautilus this season.
Wes is an instructor with the School of Ocean Technology at the Marine Institute teaching in the Ocean Instrumentation and ROV Program Areas. He has been teaching for the past 20 years at the college/university level and has joined the Marine Institute two years ago. Previous to teaching, Wes was involved in systems R&D, as well as Oceanographic and Hydrographic data collection surveys off of Canada's east coast. He has a very diverse background in data collection, control and communications systems.
Wes has a Diploma and Bachelors degree in Electronics Engineering Technology from the Marine Institute as well as a Bachelors degree in Post Secondary Education. He is presently working on his masters in Technology Management with Memorial University.