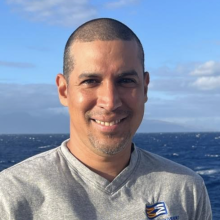 Wayne Romero
He/ Him
Able Seaman
What sparked your initial interest in a career working at sea?
It was a good opportunity to work abroad meet new people, to have the experience to travel all over the world, and be able to every day learn about other cultures.
What part of your work do you like the most?
I most like working with teammates from different nationalities.
What are your hobbies?
When back ashore I spend time playing sports, hiking, and doing lots of other outdoor activities.