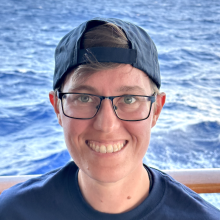 Virginia Biede
She/Her
Science Team
Graduate Student
Florida State University, Earth Ocean Atmospheric Sciences
Tell us about your work/research. What kinds of things do you do?
I focus on deep sea benthic community ecology and anthropogenic disturbance. So I spend a lot of my time researching and looking at videos of corals and sponges as well as some of the results of disturbances like fishing can have on these animals. As we don't always have much information on these creatures, I get to do analyses that put pieces of a puzzle together to try to understand why we see what we see where we see it. I also look at places that have been impacted by fishing and use what I see, like lost fishing gear, to better understand the human impacts that the animals face. So I get to use online data sources from satellites, water chemistry data from water samples, physical samples collected by an ROV to understand the biology, video data to determine what animals we are seeing and any evidence of fishing impacts, and even data from the vessel itself that maps the seafloor! All of this I get to put together to understand these communities. It is so important to understand where these animals are most likely to live in order to protect them, so I also am researching their spatial distribution and the impacts of a changing climate on their habitats.
What sparked your initial interest in your career?
I grew up by a large lake, one of the Great Lakes of the US. This started my love of water. I got a degree in marine science from the University of Maine and then went to work as a fisheries observer in Alaska. It was not only a great experience on vessels doing important fisheries data collection, but it also opened my eyes to the vast number of animals impacted by our current fishing practices. I wanted to learn more about our oceans and especially the deep sea where I could find so little information at that time. So I went to study at the University of Southampton where I was able to work on deep-sea research and take a class on deep-sea ecology. Once I started learning about the deep sea I only wanted to keep learning more, so here I am!
Who influenced you or encouraged you the most?
My wife has been my stalwart supporter for the last 5 years and I would not be where I am without her encouragement.
How did you get involved with Ocean Exploration Trust and become part of the expedition team?
My Ph.D. work incorporates remotely operated vehicle (ROV) and autonomous underwater vehicle (AUV) imagery from two years of expeditions in the same Southern Emperor-Northern Hawaiian Ridge region. When the Scientist Ashore call went out that this expedition needed a biologist I was ecstatic to answer!
What element of your work/study do you think is the most fascinating?
I am lucky to have been able to study corals and communities on distant seamounts, and it is always fascinating to look at these animals surviving in such beautiful diversity of color, shape, and species. I also love to share the beauty of these communities with other students and find their enthusiasm catching as well.
What other jobs led you to your current career?
I spent five years working as a fisheries observer in Alaska. This meant long hours, crazy weather, and beautiful sunrises. It was a physically demanding job, at a time when there wasn't internet on most of the vessels I was working on and I was usually the only female on board. I learned a lot about how to work with people from all backgrounds. It's a skill that I've leaned on when working with students or talking to a wide audience, as well as other researchers.
What are your degrees and certifications?
Bachelor of Science in Marine Sciences – University of Maine 
Masters of Research in Marine Science – University of Southampton 
What are your hobbies?
I love to bake bread! I've tried my hand at sourdough, and at one point was making a whole wheat oatmeal loaf almost every week. But now I'm hooked on a thick focaccia with garlic and basil that I've made three weekends in a row.
What advice would you give someone who wants to have a career like yours?
Think about what excites you. What takes you down that YouTube or Reddit rabbit hole? Do you have questions? Ask someone. I am here because I got silly excited about hydrothermal vents several years ago and downloaded journal articles onto my computer for transit days while working in Alaska. I couldn't figure out how the animals could travel from one vent to another to populate these different vents. I got in touch with one person, who got me in touch with another. And eventually, I left one job and started my Masters degree where I further honed my interests. 
While I found my interests, I also broadened my knowledge of computer science. Now while I'm definitely not studying hydrothermal vents, I am still excited to study vulnerable communities of the deep sea. There is no one path to being a marine scientist, let alone a deep ocean researcher. On this trip alone there are so many different jobs that are all completely necessary for this cruise to be productive. If you follow what excites you, you'll have the energy and drive for the hurdles. 
While participating in this deep ocean mission, I am most excited to see new things and interact with folks around the world. It is a privilege to be given this opportunity and I am looking forward to learning and participating fully.
Expeditions
Virginia participated in the following Ocean Exploration Trust expeditions: