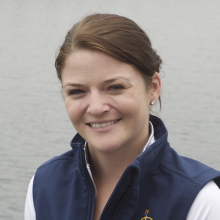 Victoria Price Doucet
Science/Data Team, Navigator
Oceanographer
David Evans and Associates, Inc
Tell us about your work/research. What kinds of things do you do?
I'm currently working as an oceanographer for David Evans and Associates. We are a consulting firm that performs hydrographic surveying for things like nautical charting and permitting. We also do a lot of geophysical and oceanographic studies and habitat mapping utilizing a variety of hydroacoustic instruments such as multibeam and single beam sonars, acoustic Doppler current profilers, and sub-bottom profilers. We are always trying to evolve with the science, so opportunities like being aboard the Nautilus are incredibly valuable. My research interests include the development of novel approaches for the acoustic detection and characterization of physical processes in the water column as well as for the use of high-resolution sonars for observing fish behavior and distribution. 
What sparked your initial interest in your career?
I took an Introduction to Oceanography course as an undergraduate to meet a general education requirement. I was bored with my major at the time so I explored a little more and was hooked. At the same time, I was also developing a computer science foundation, so learning how the two went hand in hand for things like mathematical modeling really determined the direction I went.  
Who influenced you or encouraged you the most?
My undergraduate advisor, Peter Auster. His enthusiasm for all things marine is infectious, and he always pushed his students to explore further and push the limits of their comfort zones.  
What element of your work/study do you think is the most fascinating?
I get to work on a variety of different projects, ranging from engineering-based work like structural inspection to habitat mapping, to current modeling. Not only do I get to interact with a lot of people with diverse backgrounds, but I have the unique opportunity to borrow strategies from one discipline to solve problems in another. I love having that "creative" aspect of my job.
What other jobs led you to your current career?
I've been lucky enough to do a lot of different things and explore different realms of hydroacoustics. My first job was for the National Marine Fisheries Service primarily focusing on scientific programming. I worked in academic research further developing those skills, and then I worked for a software company and learned a tremendous amount about the commercial side of the industry. When I started missing the science side, I came back to working as an oceanographer and now get to utilize all of those different skills I picked up along the way. 
What are your degrees and certifications?
Masters of Science in Oceanography- University of Connecticut, 2012
What are your hobbies?
I enjoy hanging out with my horse, hiking with my husband and my dog, and trying not to kill things in my garden.  
What advice would you give someone who wants to have a career like yours?
Learn to code! Scientists with computer science skills are invaluable. Along those same lines, having a solid GIS foundation has been critical. Meet as many people as you can from every corner of the industry- it's a small world, and people often move back and forth through different sectors. You never know what opportunities will arise, skills will be learned, or connections will be made.  
How did you get involved with the Nautilus Exploration Program? How did you get on the ship?
I met Nicole Raineault while working for QPS, a software company that develops hydrographic processing software. We've talked a lot about the Nautilus's mission so I've always been eager to get on board to help out.
Expeditions
Victoria participated in the following Ocean Exploration Trust expeditions: