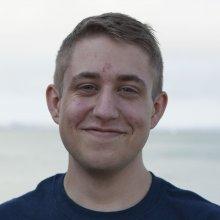 Victor Naklicki
ROV Intern
Undergraduate
Wentworth Institute
Tell us about your work / research. What kinds of things do you do?
I am an Electromechanical Engineering student. I have specialized in underwater robotics having spent a great deal of time working on the ROVs Nereid Under Ice and Nereid Hybrid Tether. These vehicles are complex and require a great deal of work to maintain and upgrade. When a problem occurs it can be difficult to initially determine the origin of the problem and I spend most of my time taking apart these systems and carefully going through them looking for the cause of the problem. Most of my time is spent working on the electrical components but I have also spent time working with the mechanical systems too especially the hydraulic arm. 
What sparked your initial interest in your career?
My interest was sparked when I watched a video of the ROV Jason trying to submerge itself in a brine pool. Being able to see Jason in such an alien looking landscape and knowing that the ocean is full of unexplored mysteries inspired me to work on the vehicles that we use to explore them. I interned multiple times at Woods Hole Oceanographic Institute working with their ROVs and it confirmed for me that this is an amazing career. 
Who influenced you or encouraged you the most?
My high school marine biology teacher showed me how amazing the ocean can be and introduced me to the field of oceanography. 
What element of your work / study do you think is the most fascinating?
The most interesting thing I have recently done is to prepare Nereid Under Ice and Nereid Hybrid Tether to travel aboard the R/V Neil Armstrong for Fleet Week New York. 
What other jobs led you to your current career?
All of my jobs have led me to the career of working with ROVs. I have spent time working at Wood Hole Oceanographic Institute and have had time to become familiar with ROVs and I will continue to expand my knowledge of this subject at OET. This is a career that I am very happy with and will continue to pursue. 
What are your degrees and certifications?
Working towards a Bachelor of Science in Electromechanical Engineering 2019
What are your hobbies?
I enjoy playing the piano, reading and going to concerts.  
What advice would you give to someone who wants to have a career likes yours?
If you want to work with ROVs the best thing to do is to just ask someone in the field. Contact someone who works with ROVs at a location that you find interesting. This field is full of very friendly people who want to help you realize your goals and they will help to point you in the right direction to be able to work with the ROVs. 
How did you get involved with the Nautilus Exploration Program? How did you get on the ship?
I applied to be an ROV Intern after learning about the program from my co-workers.