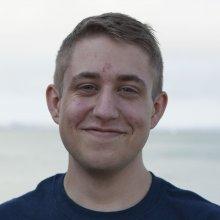 Victor Naklicki
Science/Data Team
Engineer II
Woods Hole Oceanographic Institute
Tell us about your work / research. What kinds of things do you do?
I specialize in electrical engineering and fiber optic systems on ROVs and AUVs.
What sparked your initial interest in your career?
A scientist from WHOI gave a presentation at my high school and showed ROV Jason flying around a brine pool.
Who influenced you or encouraged you the most?
The community at WHOI has always encouraged me and influenced me to try my best and work hard.
What element of your work / study do you think is the most fascinating?
The most fascinating thing I have done recently is mapping an ancient sponge reef while the AUV is being tended by an autonomous surface vehicle.
What are your degrees and certifications?
Bachelors in Electromechanical Engineering from Wentworth Institute of Technology 
What advice would you give to someone who wants to have a career likes yours?
If you want to work with ROVs the best thing to do is to just ask someone in the field. Contact someone who works with ROVs at a location that you find interesting. This field is full of very friendly people who want to help you realize your goals and they will help to point you in the right direction to be able to work with the ROVs. 
How did you get involved with the Nautilus Exploration Program? How did you get on the ship?
I started as an ROV intern in 2017 for Cordell Bank and Olympic Gold Coast and now I am returning as a WHOI Engineer.
Expeditions
Victor participated in the following Ocean Exploration Trust expeditions: