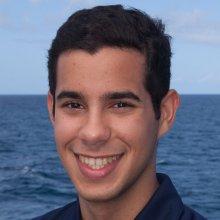 Victor Cabrera
Honors Research Program Student
High School Student
TERRA Environmental Research Institute
Victor Cabrera is a current Junior at TERRA Environmental Research Institute in Miami, Florida. As a student in the Environmental Research and Field Studies Academy at his school, Victor has been able to focus the majority of his studies on his prospective career passions, macroecology and conservation biology. He has been an active member of the Boy Scouts of America for many years and has acquired the final Eagle Scout rank. In addition, his ongoing experience as an intern for Zoo Miami's conservation department for the past three years has led him to pursue a future of research and scientific cooperation. 
Victor Cabrera has been a student at TERRA Environmental Research Institute in Miami Florida since the fall of 2011. He is currently a Junior and part of the graduating class of 2015. 
"My passion for ecology and conservation led me to see the ocean as a source of inspiration and perspective. As such, I am excited to sail aboard the Nautilus because I think that the experience will introduce me to ideas, new approaches, and new disciplines with which to face our world's future challenges." 
Expeditions
Victor participated in the following Ocean Exploration Trust expeditions: