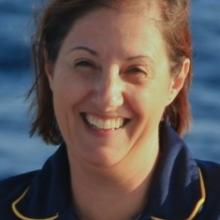 Varvara Antoniou
Geologist/GIS Specialist
University of Athens
Varvara Antoniou works as one of the data loggers onboard the E/V Nautilus. 
Varvara is a Research Assistant at the Department of Dynamic, Tectonic & Applied Geology,
Faculty of Geology and Geo-Environment,
University of Athens, for the last ten years. She
p
rovides
teaching assistance in classes and laboratories of the Department at both undergraduate and postgraduate level. She also teaches Geographical Information Systems (GIS) at the postgraduate level at the General Department, Agricultural University of Athens. Vera has participated in numerous research programs for which she
was responsible for GIS, including construction of digital maps, designing/building geodatabase for final processing of multiple informations that have been collected and production of various thematic maps.
Varvara graduated from University of Athens with a degree in geology in 1991 and completed her PhD in the use of GIS for Geoenvironmental management at the Agricultural University of Athens in 2000.