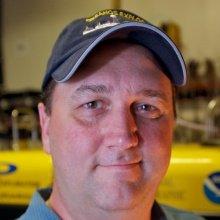 Tom Pierce
Video Engineer
Engineer
Pierce Productions
Tom is an award winning Cinematographer, Editor, and Broadcast Engineer from Maine. A native of Boothbay Harbor, he grew up working in the family marine business. Over the past 30 years, Tom has traveled the globe working on internationally aired documentary and sports programing, including films for National Geographic, and the PBS Science Series NOVA, as well as the Olympics for NBC. Tom shares his craft teaching digital media production, at the International Film & Television Workshops, in Rockport, Maine, and Southern Maine Community College. Tom has also served aboard the NOAA Ocean Exploration ship Okeanos Explorer, as a Video Engineer.
Tom studied Electrical Engineering, Computer Science, and Broadcast Production, at the University of Maine.
"I've been excited about working on the ocean with my family in our marine business since I was a boy. In my work as a documentary filmmaker, I was privileged to work with Dr. Ballard on his expedition to the Britannic, and since then I've been excited to use my skills to help broadcast the adventures of the Nautilus and share them with the next generation of explorers."
Expeditions
Tom participated in the following Ocean Exploration Trust expeditions: