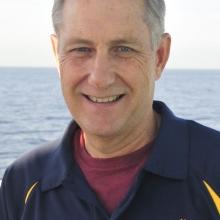 Tom Menditto
Educator-at-Sea
Consolidated School District of New Britain
Tom Menditto is an Educator-at-Sea aboard the E/V Nautilus.
Tom Menditto has had 37 1/2 years of experience implementing innovative science, technology, career and technical education programs in Connecticut public schools. An important focus of his work has been to develop and manage programs that provide special opportunities for the school district and its students to impact the residents within the urban community in meaningful ways. Tom has played an important role in initiating the District's youth employment and learning program, known as FHITEC, as well as New Britain High School's Health Care Careers and STEM Academies. He also originated and has continuously managed for the past twelve years, the Metacomet Ridge Interdistrict Academy Program which brings together over 400 middle and high school students from diverse Connecticut school districts. The program involves multiple field studies on various sections of the Ridge and exchanges of information through technology, to develop students' skills in conducting scientific protocols and assist them in acquiring knowledge of the geological and ecological significance of the Ridge.
Tom obtained a sixth-year in supervision, evaluation and curriculum development, an M.S. in biology, and a B.S. in elementary education from Central Connecticut State University and holds both elementary and secondary education certification.