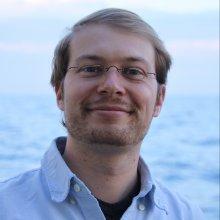 Tom Kwasnitschka
Science/Data
Researcher
GEOMAR Helmholtz Centre for Ocean Research Kiel
Tom Kwasnitschkas research focuses on robotic exploration of deep ocean environments, particularly in the field of physical volcanology of seamounts, very deep explosive volcanism, and the temporal evolution of hydrothermal edifices. Further fields of his research are habitat mapping of cold and warm water coral as well as methane hydrate monitoring. He has pioneered the use of high-resolution 3D photogrammetric reconstruction of seafloor outcrops, develops camera and lighting systems to collect such data and has worked with imagery gathered by most major ROV and AUV systems. Tom also conducts research on the use of immersive virtual reality infrastructure to enhance telepresence at sea and visualize multimodal marine and seafloor data. He takes an active role in the popularization of such datasets throughout the international museum community.
Dr. Kwasnitschka received his PhD in Geology from the Christian-Albrechts-Universität zu Kiel, Germany, and has been a researcher at the GEOMAR Helmholtz Centre for Ocean Research Kiel since 2007. 
"Most of our world is covered by water, and that makes it hard to get there. I look forward to bringing the seafloor closer to all of us, using modern technology."
Expeditions
Tom participated in the following Ocean Exploration Trust expeditions: