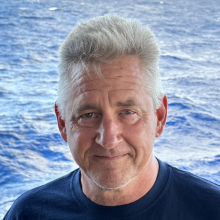 Tito Collasius
Hercules Pilot
Senior Engineering Assistant II
Woods Hole Oceanographic Institution
Tell us about your work/ research. What kinds of things do you do? 
I work in the Deep Submergenge Lab at Woods Hole Oceanographic Institution, primarily with the ROV system Jason. My research interests include fabrication, operations and maintenance of remotely operated vehicles, launch and recovery systems for ROVs, and subsea sampling equipment including installation of remote sensor arrays and procedures for operations and installations.
What sparked your initial interest in your career?
Being a part of the Titanic discovery!  This was my first oceanographic cruise and it really opened some doors.
Who influenced you or encouraged you the most?
My Father. He too worked on ships and encouraged me to do the same!
What element of your work/ study do you think is the most fascinating?
Live Volcanos!
Shipwrecks! 
Hydrothermal vents! 
Corals!
They are all my favorites.
How did you get involved with the Nautilus Exploration Program?  
The ROV community is quite small.  Connections in my network encouraged me to apply to join OET for an expedition. 
What other jobs led you to your current career? 
I was the mess attendant on RV Knorr for the expedition that led to the Titanic discovery. Then I sailed as an Able Seaman and a Bosun. Then oiler and worked up to junior engineer. These roles really helped me develop skills for working with ROVs
What are your degrees and certifications?
I have a GED and a lot of on-the-job training. 
What are your hobbies?
Sailing, motorcyles and dogs
What advice would you give someone who wants to have a career like yours?
After 38 years in the business, I canʻt tell you how much fun it has been and all the places I've been. If you like to travel and explore this job is for you.1
Expeditions
Tito participated in the following Ocean Exploration Trust expeditions: