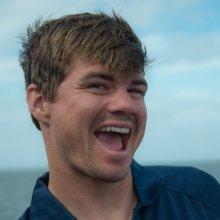 Timothy Brogdon
Navigator
Ocean Exploration Trust
Tell us about your work/ research. What kinds of things do you do? 
I work as the lead navigator on board E/V Nautilus. The role of the navigator on board Nautilus is to link the science/ROV team with the ships pilot. The work we do requires precise locations and movement. The navigator is key in making sure the research and exploration done on Nautilus gets done efficiently and accurately. 
What sparked your initial interest in your career?
When I was in the Navy I started working on my degree, my archaeology class really grabbed my interest. I have always been fascinated by the water, so naturally after I found out there was such a thing as marine archaeology, I decided to pursue that.
Who influenced you or encouraged you the most?
I grew up reading Clive Cussler Dirk Pitt novels, those stories definitely pushed me towards the ocean. As an adult I read some of marine archaeologist James Delgado's work. He has been a long time hero and inspiration to me. 
What element of your work/ study do you think is the most fascinating?
The best part of my job is that I am constantly surrounded by the best and brightest in their respective ocean science fields. I learn so much every time I am out on Nautilus. 
How did you get involved with the Nautilus Exploration Program?  
Getting on the Nautilus is an easy story. I was on an archaeological dig down in Belize and met Dr. Michael Brennan. He got to know me and my experiences in the Navy and told me I should apply to be a Navigator on Nautilus. The rest is history.
What other jobs led you to your current career? 
I worked in the US Navy for six years as a sonar technician. My experiences in the Navy made me a prime candidate for the job as a navigator. 
What are your degrees and certifications?
I studied anthropology with an emphasis in archaeology at Humboldt State University. I am scuba certified. I have years of first aid and boating experience. one of the most helpful skills for working as a navigator is the ability to picture things spatially, knowing where the ship is in reference to the ROVs and whatever site we are working on is key.
What are your hobbies?
Most of my time off the ship is spent playing rugby. I play for the Seattle Saracens, the best rugby club in the USA. I also volunteer at the Center for Wooden Boats in Seattle. The CWB is a maritime museum with a really cool wooden boat fleet. I help to maintain and repair the boats as well as take people on historic boat tours around Lake Union.
What advice would you give someone who wants to have a career like yours?
If you are interested in having a career like mine, apply to come on the Nautilus! We have lots of great internship opportunities. You can also get experience on different types of boats. There are places that offer navigation courses. A degree in some sort of ocean science (whatever one you are most passionate about) would help as well. Also tune in to Nautilus Live!
"Reading the Dirk Pitt series by Clive Cussler as a kid got me interested in studying the ocean as a career."
Expeditions
Timothy participated in the following Ocean Exploration Trust expeditions: