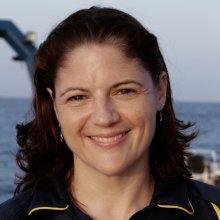 Susan Poulton
Communications/Media
Chief Digital Officer
The Franklin Institute
Tell us about your work / research. What kinds of things do you do?
I'm currently the Chief Digital Officer of The Franklin Institute science museum in Philadelphia and I work on digital media and media outreach strategy for the E/V Nautilus and the Ocean Exploration Trust. My passion is inspiring and awakening curiosity in any audience and moving them to action through digital experiences and online storytelling, especially in the sciences. I work on all things digital including online content, social media, mobile experiences, and virtual reality.
What sparked your initial interest in your career?
I've always been a storyteller and pursued a degree in English and Journalism from almost the very beginning. But as a proud Space Camp graduate, I'm also a science nerd and wanted to find a way to bring both of those worlds together. I still want to be an astronaut!
Who influenced you or encouraged you the most?
There have been so many people who have influenced me along the way, from my earliest teachers (both in science and creative writing) to mentors, family members, and colleagues. I think the best thing about mentors is you usually don't realize you have one until after they've left their mark on your life. The most amazing influencers can come from the most unexpected places!
What element of your work / study do you think is the most fascinating?
I think one of the best ways to connect the public to science is to allow them to be present and part of the moment of discovery. Experiencing that excitement first-hand changes someone forever. That's why live exploration is so exciting. Its ability to impact and change lives in an instant is very real. I'm also fascinated by social media and how it both expresses and influences human behavior.
What other jobs led you to your current career?
I started my career accidentally, by landing a job at America Online when it first became popular. The internet was a very new thing, and I was able to witness many "firsts" and watch this medium unfold. My first experiences were in large-scale entertainment events like movie premieres, awards shows and celebrity interviews, but I eventually pursued my passion for science by joining National Geographic as a Vice President of Digital Media. I eventually founded my own consulting firm to work with many different people, including directly with scientists before exploring the museum world at The Franklin Institute. I love that digital is broad enough that I can continue to expand my experience and opportunities in different types of places with that as the backbone.
What are your degrees and certifications?
Graduated from Virginia Tech University in 1996 with B.A. degrees in Journalism and English Literature. I'm also a PADI certified open water diver.
What are your hobbies?
I love traveling, photography, and space and spend my spare time practicing Muay Thai kickboxing and photographing rocket launches. I also volunteer to provide media and digital training to non profit organizations around the world, including as an instructor for National Geographic Photo Camp. I'm also working on a project to document my attempt to summit the highest points in all 50 states in the U.S.
What advice would you give to someone who wants to have a career like yours?
One of the most amazing things about digital media is its ability to give everyone an immediate platform and voice. Start writing, photographing, publishing. Build a body of work that showcases your talents and lets your creativity shine through. Your work will speak for itself and go a long way to demonstrating early ability to a potential employer. Also, hang in there. There's so much pressure these days to succeed and move on. I worked several years doing the night and weekend shifts, missing holidays and vacations to have the opportunities I've had. It takes hard work and sacrifice, but if you demonstrate reliability and capability, others will believe in you and give you opportunities.
How did you get involved in the Nautilus Exploration Program? How did you get on the ship?
My work at National Geographic introduced me to Dr. Robert Ballard and Dr. Katy Croff Bell and my first expeditions were part of work National Geographic did with the E/V Nautilus. Even though my initial introduction was work related, I soon became incredibly passionate about the work they were doing and wanted to be involved in any way I could!
"I think one of the best ways to connect the public to science is to allow them to be present and part of the moment of discovery. Experiencing that excitement first hand changes someone forever."
Expeditions
Susan participated in the following Ocean Exploration Trust expeditions: