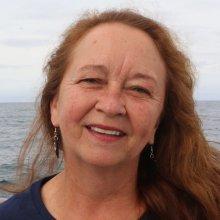 Susan Merle
Science / Data Team
NOAA EOI Program / Oregon State Univ. CIMRS Program
NOAA EOI Program / Oregon State Univ. CIMRS Program
Tell us about your work/research. What kind of things do you do?
I'm a senior research assistant at Oregon State University's Cooperative Institute for Marine Resources Studies as part of the NOAA EOI (Earth-Ocean Interactions) Program. My background is geological oceanography, and I specialize in seafloor and acoustic water column data acquisition, processing, and analysis, as well as two-, three-, and four-dimensional rendering of ocean features and their geological interpretation. While at sea, I'll be utilizing my seafloor and water column mapping experience to assist in our search for methane seeps along the Oregon and Washington margin. I will also aid in planning and implementation of remotely operated vehicle (ROV) dives on newly-discovered and previously known methane seeps on the margin.  
What sparked your initial interest in your career?
Love of the ocean and geology
Who influenced you or encouraged you the most?
My mother
What element of your work/study do you think is the most fascinating?
Data visualization in 2D-3D and 4D. Conveying seafloor and water column features to the public.
What other jobs led you to your current career?
I was an undergraduate research assistant at University of Washington before working in private industry mapping the seafloor for 5 years, and then on to my current job as a Sr. Research Assistant with an emphasis in marine geology and geophysics
What are your degrees and certifications?
Graduate certificate in GIScience
Oregon State University, March 2012

Bachelor of Science Oceanography, emphasis in marine geology and geophysics
University of Washington - Seattle, December 1991

National Science Foundation - Research in Education for Undergraduates Fellowship
University of Washington - June 1990 to December 1991
What are your hobbies?
Gardening and walking on the beach
What advice would you give someone interested in a career like yours?
Don't sell yourself short. Go for your dream, no matter how far-fetched it may seem.
How did you get involved in the Ocean Exploration Trust? How did you get on the ship?
I've worked for the NOAA Vents Program, now NOAA EOI for 23 years. Ocean exploration has been our emphasis for all that time, first with hydrothermal processes and more recently looking at methane flares on Cascadia margin
I feel so lucky to be able to explore the deep ocean. It's a dream job.
Expeditions
Susan participated in the following Ocean Exploration Trust expeditions:
Selected Publications
2022
(2022).
Initial Results from E/V Nautilus Expedition NA128 "Cascadia Margin Seep Exploration": Cascadia Margin Mapping, High-Resolution ROV Multibeam, and Gas/Fluid Sampling .
2022 Ocean Sciences Meeting
2021
(2021).
Distribution of Methane Plumes on Cascadia Margin and Implications for the Landward Limit of Methane Hydrate Stability.
Frontiers in Earth Science