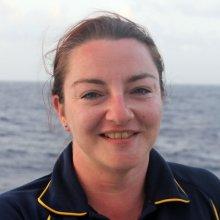 Susan Heaney
Science Communication Fellow
Ocean Exploration Centre Manager
Titanic Belfast
Susan Heaney is the Ocean Exploration Centre (OEC) manager at Titanic Belfast, the world's largest Titanic visitor attraction, based in Northern Ireland.
Susan is responsible for the content development and operation of the Ocean Exploration Centre within the exhibition and has recently overseen the transformation of the OEC into a dynamic and stimulating environment. She deals with all of the OEC's collaborative partners including Dr. Robert Ballard & the Ocean Exploration Trust, AFBI (Agri-Food & Bioscience Institute of Northern Ireland), DoE's (Department of Environment of Northern Ireland) Marine Division, the Irish Marine Institute and the Ryan Institute of NUIG, among others, and is currently developing an academic research outreach service for all marine research agencies.
Susan is also responsible for the development and implementation of the STEAM (Science, Technology, Engineering, Art & Maths) elements of the Titanic Belfast learning strategy including formal and informal workshops, on-line resources, seminars, interactive broadcasts and festivals. She has also spent time on-board E/V Nautilus as an Educator at Sea and is returning in 2014 as Lead Science Communication Fellow.
Susan's previous employments have included positions such as lab technician, fisheries officer, sea-going scientific observer, lecturer and tutor.
Susan Heaney graduated from Letterkenny Institute of Technology with a first class honours degree in analytical science. She subsequently obtained a post-graduate diploma in research practices and is currently working towards completing her PhD in marine biotechnology.