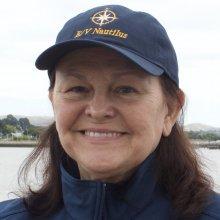 Susan Groff
Science Communication Fellow
Biology & Global Studies Teacher
Middle College High School @ Santa Ana College
Tell us about your work/research. What kinds of things do you do?
I am a biology and global studies teacher in an early college program; our students attend high school and college concurrently. I enjoy sharing my passion for science with students through labs, activities, field trips and cutting edge research. Students are introduced and encouraged to explore the dynamic and diverse fields of science.
What sparked your initial interest in your career?
I was fascinated by the various biological disciplines in college and enjoyed exploring an array of classes. I became focused upon neuroscience, and planned to pursue a career in research until our research lab experienced funding cuts and positions were eliminated. I sought a temporary teaching position with Los Angeles Unified School District as a biology teacher and was "hooked" on teaching! I was determined to provide students with an engaging and enriching learning environment while also serving as a reformer in education. My career as a teacher continues to be meaningful, rewarding and joyful. I am delighted to see young students gain confidence in their knowledge, abilities, and life!
Who influenced you or encouraged you the most?
My parents and siblings were always supportive of my curious spirit. Since I was the youngest of five children, I received attention and guidance from my older siblings and parents. My parents were very creative and progressive; we were encouraged to pursue our interests in science. My father enjoyed sharing the latest scientific developments with our family. While in college, Dr. Sujata Tewari was instrumental in sparking my interest in neuroscience. She was a kind, patient and brilliant biochemist who was an extraordinary mentor. I acquired many academic and teaching skills from her.
What element of your work/study do you think is the most fascinating?
I have had the opportunity to participate in numerous exploration programs for teachers. Each experience has broadened my professional and personal knowledge. I am extremely interested in astrobiology and evolution. I flew aboard NASA SOFIA (Stratospheric Observatory for Infrared Astronomy) as an Airborne Astronomy Ambassador in 2013 and had the opportunity to witness infrared instrumentation and research. Last summer, I participated in the Dig Field School program and had the opportunity to explore authentic paleontology and geology research at Hell Creek, Montana. I continue to be intrigued by the mosaic of life and the clues we encounter. I am looking forward to exploring the hydrothermal vents at Gorda Ridge with NASA SUBSEA scientists. 
What other jobs led you to your current career?
I have always enjoyed working in research labs. The enthusiasm and excitement of discovery are inspirational! 
What are your degrees and certifications?
M.Ed. Instructional Technology - Kent State University 1996,
B.A. Psychology/biology - University of California Irvine 1980
California Community College Credential
California Single Subject Teaching Credential: Social Science, Biology, Computer Applications, Drama
California Multiple Subject Teaching Credential
Language Development Specialist
Administrative Credential
What are your hobbies?
I enjoy traveling, exploring and trying new foods. I like sailing and/or kayaking with my family and dog. Photography, technology (computers/VR/biotechnology) and gadgets grasp my attention.
How did you get involved with the Nautilus Exploration Program?
I have participated in several oceanography programs within my region. I received notification regarding the Nautilus Exploration Program through the National Marine Educators Association (NMEA). I applied to learn more about hydrothermal vents and astrobiology. I was a young college student when Dr. Ballard made his hydrothermal vent discovery. Chemosynthesis was a revolutionary scientific discovery! 
What advice would you give someone who wants to have a career like yours?
Follow your interests and be open to new opportunities throughout your life. Explore different disciplines while in college and take your time. Surround yourself with positive and supportive people who genuinely care about you. Be kind to yourself and others as you journey through life. 
Expeditions
Susan participated in the following Ocean Exploration Trust expeditions: