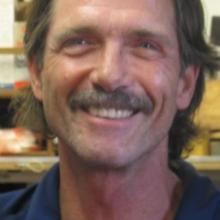 Steve Bucklew
ROV Pilot
Sierra Offshore Services
Steve works as one of the ROV Pilots onboard the E/V Nautilus.
Steve started his career as a mechanical technician/ equipment operator in the U.S Armed Forces for Tracked Vehicles in 1972. He then went into the marine industry in 1982 as a vessel engineer, and started as an ROV Pilot/ Subsea Engineer in 1983, specializing in deepwater robotics operations in the offshore oilfields, operating various ROV'S and Subsea Tractors/ Trenchers performing subsea maintenance tasks, cable Installations, pipeline installations, environmental and ecological surveys, subsea salvage, and science research tasks worldwide.
Steve acquired his GED Diploma while in the Armed Forces in 1972, and studied Business, Solar Construction, Welding, and Mechanical Technology at Cuesta Community College in San Luis Obispo, CA. from 1977 to 1979.