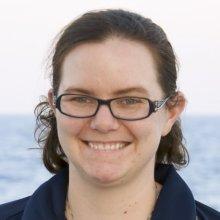 Stephanie Nebel
Science/Data
Teacher
The Elisabeth Morrow School
Stephanie is a marine and coastal geologist and teaches middle school science at The Elisabeth Morrow School in Englewood, NJ. She is thrilled to be joining the Nautilus expedition once again and looks forward to sharing her experiences with her students and inspiring the newest generation of explorers. A winter enthusiast, Stephanie coaches ski racing in Pennsylvania.  
Stephanie graduated from Bryn Mawr College in 2005 with a degree in geology. She received her MS and Ph.D. degrees in geology from The University of Delaware in 2010 and 2014, respectively.  
"I first became interested in ocean exploration when I was in middle school – then mostly forgot about it until I (luckily) rediscovered the passion while majoring in geology in college. I was (and still am) drawn to the mystery, beauty, peaceful serenity, and constant motion of the ocean. These are the reasons I chose to teach middle school. I think the best way I can advance the scientific field is by sharing my love and enthusiasm for science with young students."  
Expeditions
Stephanie participated in the following Ocean Exploration Trust expeditions: