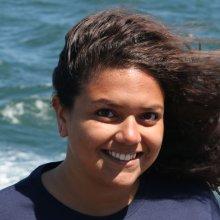 Stephanie Mart nez Rivera
Ocean Science Intern
Graduate Student
University of Maryland Eastern Shore
Tell us about your work / research. What kinds of things do you do?
I am a graduate student at the University of Maryland Eastern Shore. Currently, I am in my 3rd year of the Ph.D. program in Marine Estuarine-Environmental Science with a focus on Fisheries Science. My research focuses on the reproductive biology of the deep-sea red crab, which has supported a federally-managed data-poor fishery in Mid-Atlantic and southern New England since the 1970's. Our main goal is to glean all the information we possibly can in order to improve their management strategies, and expand our knowledge on deep-sea decapods. The main challenge with this species is the limited information about their biology, abundance, growth, age, reproduction, and habitats, as well as the difficulty of collecting samples. One of the aspects of my research that I enjoy the most is the five day boat trips with the Atlantic Red Crab Company aboard the F/V Hannah Boden. 
What sparked your initial interest in your career?
I grew up on a Caribbean island full of marine and coastal ecosystems and resources. Puerto Rico, the enchanted island, is an archipelago located between the North Atlantic Ocean and the Caribbean Sea. Since I was 5 years old, my father, a recreational fisherman, used to take me to the beach every weekend. My family and I spent our days at the beach swimming, fishing, snorkeling, or just enjoying the spectacular view. I remember being extremely intrigued with the wonders of the ocean, and I still am. My curiosity prompted in me the desire to work as a volunteer to protect our oceans. Consequently, I participated in educational nature walks, beach clean-ups, mangrove forest explorations, and workshops. As I grew older, my passion for the ocean progressed into my study of Marine Biology.
Who influenced you or encouraged you the most?
My parents have been the key to my success. They have always, and still, supported me in my decisions and helped me achieve all my goals. 
What element of your work / study do you think is the most fascinating?
The most fascinating element of my work is diving into the unknown, making new discoveries, and further the knowledge of deep-sea biology. In addition, in the past years I have participated in three research cruises as a scientist intern which has been an extremely fulfilling experience. Ocean exploration is fascinating! 
What other jobs led you to your current career?
I am a PhD student at the moment and I expect to graduate in Spring 2018. When I think about what my next step is after Ph.D. the answer is conducting deep-sea biology research and leading research cruises. Ever since I decided to become a Marine Biologist, my main career goal has been to conduct research at sea aboard research vessels, which led me to volunteer on NOAA research vessels, and conduct part of my research on a commercial vessel. I am also interested in working with education and outreach programs due to my enlightening experience working at Sea Grant Puerto Rico as a Marine Educator. 
What are your degrees and certifications?
I earned my BA degree at the University of Puerto Rico Humacao in Coastal Marine Biology in 2012. I am SCUBA certified and I have experience in scientific diving. First Aid/CPR/AED certified. 
What are your hobbies?
I am an outdoor enthusiast! I love to travel and discover the wonders of nature in every place I go, which includes diving, camping and hiking. Also, I love to go salsa dancing!
What advice would you give to someone who wants to have a career like yours?
Do it! We need more people interested in understanding our marine and coastal ecosystems and resources in order to protect them. Look for research opportunities as an undergrad, participate in community outreach activities, environmental-marine programs, meetings and conferences, and be active in marine issues. All the above will help you build a strong CV, but more importantly these experiences will help you develop leadership, communication and academic skills. Remember, the future of marine science is founded in interdisciplinary research and collaborations. It's important to maintain good relationships with your colleagues and to network, in order to open more doors to opportunities for your career. 
How did you get involved in the Nautilus Exploration Program? How did you get on the ship?
I experienced the importance of E/V Nautilus work for the first time when I followed it in 2013 during the expedition in Puerto Rico. After that I became extremely fascinated and curious about the deep-sea ecosystems and how little we know about them. Currently, I am a NOAA Living Marine Resources Cooperative Science Center (LMRCSC) graduate student which is part of the NOAA Educational Partnership Program (EPP). The EPP have a collaboration with the Nautilus Exploration Program that offer internship opportunities for graduate students and I applied. 
Expeditions
Stephanie participated in the following Ocean Exploration Trust expeditions: