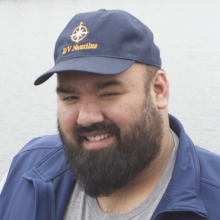 Simon Rios Jr
Nautilus Ambassador
Teacher
Moody High School and the CITGO Innovation Academy
Tell us about your work/research. What kinds of things do you do?
I contribute to numerous areas on campus. The CITGO Innovation Academy is a school within a school housed at Moody High School in Corpus Christi, Texas. I am the head robotics coach for land robotics.  I am the yearbook sponsor, and I am the freshmen level engineering teacher. My degree is in English and I leverage those skills as I support my robotics students to document, present, and communicate with others on both technical and introductory levels of understanding. I transitioned to yearbook advisor allowing me to have a better understanding of how to take pictures and the use of design, which actually crosses over with engineering quite a bit. My goals are to support teachers incorporating STEM into their curriculum as well as develop maker spaces for students to design, create and code.  
What sparked your initial interest in your career?
Teaching has been something that came natural to me. It combines helping others and finding new, creative ways to get information to others. I fought it initially as a career choice but realized soon after starting it fit me quite well. I initially told myself just make it through five years (statistics are that most teachers quit within that time), but I see it as a life-long mission to continue improving the lives of my students and those in my community by improving the educational opportunities around us.
Who influenced you or encouraged you the most?
There have been quite a few teachers in my life that have guided me, but my initial teachers, my parents, have pushed me from the start. Currently, my muse, my wife, helps me to continue developing my ideas to increase my effectiveness as an educator.  
What element of your work/study do you think is the most fascinating?
Currently, I am tackling computer science! I feel that understanding this foreign language will undoubtedly help my students in robotics, but it is also something that is going to help me grow as an educator. I find it both challenging, fun, and exciting when I find success.  
What other jobs led you to your current career?
Directly after college, I started working at my current school. But while in college, I volunteered as a basketball coach for 5th graders, and worked at two youth after school/summer centers during my time in College Station.  
What are your degrees and certifications?
Bachelor of Arts in English- Texas A&M University 2006
Master of Management- Kaplan University Online 2010
What are your hobbies?
I enjoy watching movies, working out- specifically mixed martial arts and weightlifting, and collecting souvenirs from my travels.  
What advice would you give someone who wants to have a career like yours?
Teachers come into education through many avenues, but keep an open mind and find programs or subjects that are going to challenge you and keep you on your toes.
How did you get involved with the Nautilus Exploration Program? How did you get on the ship?
I received an invitation to board Nautilus through my school's partnership with CITGO. I was very proud to be recognized as runner-up finisher for Teacher of the year at the CITGO STEM Night last fall.  
Expeditions
Simon participated in the following Ocean Exploration Trust expeditions: