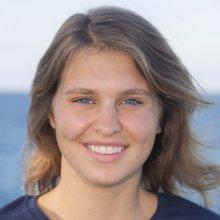 Shannon Demers
Honors Research Program
High School Student
The Williams School
Shannon Demers is a high school junior at The Williams School. At school she is involved in varsity field hockey, the ambassador program, and the service committee. Outside of school Shannon also works with children in her community on the Jason Project. In past summers she has worked with her mother cleaning residential houses and commercial buildings.
Shannon Demers is a junior at The Williams School in New London, CT.
"The mystery behind artifacts found during ocean explorations is what originally caught my attention when I was young. I am excited to begin working on the Nautilus to explore all the mysteries that the ocean still holds."
Expeditions
Shannon participated in the following Ocean Exploration Trust expeditions: