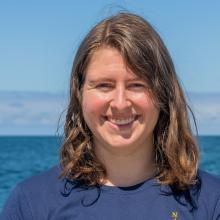 Shannon Brown
Science/Data Team
Lab Manager/Research Scientist
University of Washington - Cooperative Institute for Climate, Ocean, & Ecosystem Studies
Tell us about your work/research. What kinds of things do you do?
My research focuses on using morphological and molecular techniques to study the species composition, diversity, and connectivity of marine invertebrates. Most of my previous research experience was based in the tropical waters surrounding the Arabian Peninsula, so I am eager to explore an entirely different environment in the Pacific Ocean. On this expedition, we plan to perform environmental DNA sampling, which involves filtering water samples to capture the DNA released by organisms into their environment. In addition, to better understand the community structure of these deep-sea ecosystems, we plan to collect organismal samples for whole mitochondrial genome sequencing.
What sparked your initial interest in your career?
I've wanted to be a marine scientist for as long as I can remember. Like most little kids, my initial interest in the marine world began with dolphins. However, while completing an invertebrate zoology course during undergrad, I discovered my passion for marine invertebrates, specifically polychaetes. Then it wasn't until graduate school that I became interested in genetics and quickly gained an appreciation for how this tool can be used to study marine invertebrate diversity.
Who influenced you or encouraged you the most?
My undergraduate advisor, who supported me during my honors thesis, provided me with invaluable advice and encouragement during my early years in the field. In addition, I have been fortunate to work with several strong female advisors and coworkers who have created opportunities, provided research guidance, and shaped me into the scientist I am today.
What element of your work/study do you think is the most fascinating?
While living in the Middle East for my graduate studies, I traveled to multiple surrounding countries to collect samples. Simultaneously exploring a new culture and new ecosystem was incredible, and I was always meet with something new both above and below sea level.
What other jobs led you to your current career?
I've worked as an exhibit interpreter at the Shedd Aquarium, as a teaching assistant in the Caribbean, as a diving intern for the National Park Service, and as a volunteer researcher in multiple labs. If I hadn't spent time in the Caribbean, I wouldn't have met an alumnus of my graduate school and been encouraged to apply. If I hadn't attended graduate school in Saudi Arabia, I might not have met an advisor whose passion for genetics inspired me to continue within that field. Overall, each previous opportunity exposed me to new techniques and environments, and they all guided me to my current career.
What are your degrees and certifications?
Bachelors of Science in Marine Biology - University of Oregon 2017
Masters of Science in Marine Science - King Abdullah University of Science and Technology 2020
What are your hobbies?
I enjoy cooking, hiking, scuba diving, and traveling. I'm also an active curler - winter sport played on ice.
What advice would you give someone who wants to have a career like yours?
If you are interested in the marine science field, I encourage you to develop strong communication and writing skills – as both will benefit you as you seek schooling or employment opportunities. I would encourage individuals to learn statistics, photography, or even graphic design to diversity your resume. I'd also suggest that those interested in the field ask advice from other scientists along the way.
How did you get involved with the Ocean Exploration Trust?
OET and the Cooperative Institute for Climate, Ocean, & Ecosystem Studies are collaborating on this expedition. I feel very lucky to be a participating as a scientists!
Expeditions
Shannon participated in the following Ocean Exploration Trust expeditions: