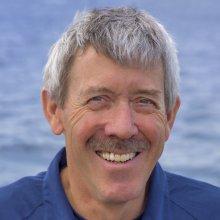 Sean Bercaw
Navigator
Captain/Nautical Science Faculty
Sea Education Association, Inc.
Tell us about your work / research. What kinds of things do you do?
I am the captain of 'Tall Ships' and Sailing Research Vessels, conducting a 25+ year Message in a Bottle project. I am the Marine Projects Coordinator aboard US Antarctica Program Research Vesselsand I work as the scientific Navigator aboard E/V Nautilus.
What sparked your initial interest in your career?
Sailing Around the World on a 38-foot Sailboat with my family when I was ten-years-old and following my Father's excitement in Oceanographic Research Operations, Marine Engineering, and Ocean Exploration.
Who influenced you or encouraged you the most?
My mentors have come in different forms and varieties, and all have helped me pursue this path.
What element of your work / study do you think is the most fascinating?
That's a tough one; in the past year I've sailed a Tall Ship with college students from American Samoa to New Zealand while teaching Celestial Navigation and investigating Polynesian culture, worked aboard a Research Vessel in Antarctica on an expedition discovering 70-million year old dinosaur fossils, Captained the 139-year old 1877 Barque ELISSA (ten years older than the Statute of Liberty!) and had Messages in Bottles discovered in 3 different oceans.
What other jobs led you to your current career?
Working as a Museum Interpreter at Mystic Seaport Museum, Captain of the Schooner AMISTAD, 4 1/2 years as a US Naval Officer, working in the California Offshore Oil Industry, spending 8-weeks underwater on a Nuclear Submarine.
What are your degrees and certifications?
BS in Civil Engineering - Northwestern University 1985; Masters of Marine Affairs - University of Rhode Island 1993; NROTC courses and US Naval Officer Commission 1985; Remote EMT & MPIC, Wilderness First Responder; Captain - USCG 1600-ton Ocean Master Aux. Sail License [over 175,000 miles under Sail]; SCUBA - PADI Rescue Diver.
What are your hobbies?
Exploring 'Possibilities', Traditional Rowing, Running, Traveling, Creating.
What advice would you give to someone who wants to have a career like yours?
Follow your dreams, realize it's a 'Journey' and not a Destination so sometimes what may seem a tangent turns out, with hindsight, to have been the path that led to the most rewarding outcomes!
How did you get involved in the Nautilus Exploration Program? How did you get on the ship?
Encountered impressive individuals working with the NAUTILUS program and realized that my skill set is complimentary to the mission of the program.
"Working aboard the Nautilus allows me to participate in investigating new elements of the oceanic environment utilizing the tools of this extremely capable vessel. I am thrilled to be part of this new shipboard community, and by sharing my experiences invite others to learn about this amazing thing we call the sea."
Expeditions
Sean participated in the following Ocean Exploration Trust expeditions: