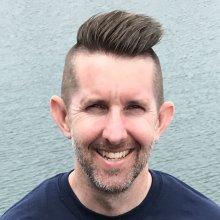 Scott Collins
Nautilus Ambassador
Science Department Chair
Lemont High School
Tell us about your work/research. What kinds of things do you do?
I am the chair of the Science Department at Lemont High School. In my role, I oversee curriculum and instruction within the department and ensure that our teachers have the resources necessary to effectively teach our students. In addition to overseeing the department, I also teach A.P. Biology and an elective course called Big History.
What sparked your initial interest in your career?
I have always had a passion for science and for service. What better way to combine those two elements than to teach? I consider myself a life-long learner and enjoy learning alongside my students just as much as I do teaching them.
Who influenced you or encouraged you the most?
I grew up in a family of passionate teachers. My mother is still in the classroom and continues to bring the same energy she did when she was cutting her teeth in the profession. Seeing her dedication to teaching had a powerful effect on me. I was also influenced by some exceptional high school teachers, most namely my Creative Writing teacher, Mr. Myers. He showed me what a truly caring teacher can do for kids.
What element of your work/study do you think is the most fascinating?
I enjoy developing kids' passions in the areas of science. Being present for the "light-bulb" moments for students is extremely rewarding for me as are the emails from students who have left the walls of Lemont High School and went on to do wonderful things in various STEM fields.
What other jobs led you to your current career?
I began teaching right out of college.
What are your degrees and certifications?
Bachelor's of Arts in Biology, Master's in Educational Leadership, Master's in Curriculum and Instruction
What are your hobbies?
I love hiking and travel. I take students on a research trip each summer to work alongside scientists in the field. We have traveled to Yellowstone National Park and to Maui. I am a husband, a father of three little children, a die-hard Cubs fan.
How did you get involved with the Nautilus Exploration Program?
I received the 2018-19 STEM Teacher of the Year award from our local CITGO refinery. OET and CITGO have partnered since 2014 to make opportunities like this possible for local educators.
What advice would you give someone who wants to have a career like yours?
Follow your passion. Volunteer at your local schools. Get into classrooms and get as much field experience as you can.