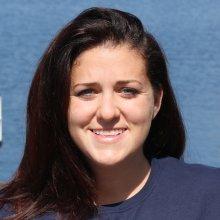 Sarah Walsh
Seafloor Mapping Intern
Undergraduate Student
Marine Institute of Memorial University
Tell us about your work / research. What kinds of things do you do?
The joint diploma and degree Ocean Mapping program at the Marine Institute is a combination of theory and hands-on learning. After graduation this year, I will be working as a multidisciplinary hydrographer with the Canadian Hydrographic Service in St. John's, NL. Our work consists of collecting and processing multibeam data along the coasts of Newfoundland and Labrador, which will then be used to create nautical charts for those areas. 
What sparked your initial interest in your career?
During my first degree in Marine Biology, I found myself gravitating towards the technology being used in research; therefore, after some searching into different programs offered around the world, I landed back in my own backyard. I enrolled in the Ocean Mapping program because not only would it allow me to work in an ocean-related field but it would allow me to work with a relatively new technology and I'm excited to see where it takes me! 
Who influenced you or encouraged you the most?
My parents have been the reason I have been moving forward with what I love, despite it taking a little longer than others. They constantly encourage me to push forward and I know I wouldn't be where I am today if it wasn't for them. 
What element of your work / study do you think is the most fascinating?
The most fascinating element of my study is the fact that we are creating images of areas around the world that could not be captured otherwise. Sonar technology is an amazing technology and allows for amazing discovery. 
What other jobs led you to your current career?
During my marine biology degree, I took field courses at the Bonne Bay Marine Station. During those courses, we were exposed to different types of marine technology. Even though sonar technology was not used during those courses, it was the door that opened my mind to the different technologies that are being used in ocean research. 
What are your degrees and certifications?
Bachelor of Science in Marine Biology, Bachelor of Technology, Diploma in Ocean Mapping 
What are your hobbies?
I love doing activities that get me outdoors, such as hiking, kayaking, diving, and walking my dog. I also love being in the kitchen because I think you should know what is in your food. 
What advice would you give to someone who wants to have a career like yours?
Go for it! It is an exciting new field and there is training available all over the world ranging from diplomas to master degrees that will propel you forward in this career. We know more about Mars than we do about our own ocean; so, I encourage people to get involved in whatever training that will help us better understand the water around us, especially ocean mapping. With less than 10% of our oceans mapped, we need as much help as we can get!! 
How did you get involved with the Nautilus Exploration Program? How did you get on the ship?
Applied for the SEIP internship program through the encouragement of faculty and staff at the Marine Institute.