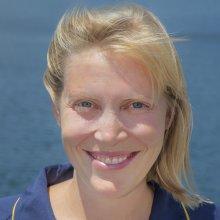 Sarah Steinke
Nautilus Ambassador
Chemistry Teacher
Lockport Township High School
Tell us about your work / research. What kinds of things do you do?
I teach a combination of regular and honors level chemistry at a high school in suburban Chicago.
What sparked your initial interest in your career?
I had some amazing teachers over the years who instilled their love for science and teaching.
Who influenced you or encouraged you the most?
My high school chemistry teacher Mr. Rieck. He was the perfect level of nerdy. He had an incredible method of reaching his students and sharing his love of science. He was the reason I pursued a degree in Chemistry. After that, I enjoyed the lessons I learned throughout my schooling, but didn't want to end up in a lab. I decided that teaching was a great way to stay on my toes and into science while hopefully helping to inspire new scientists as well.
What element of your work / study do you think is the most fascinating?
The best part of teaching is watching the lightbulbs turn on in students. I love hearing from students how they are planning to further their goals in science.
What are your degrees and certifications?
Bachelor of Arts in Chemistry and Mathematics- Knox College 2004, Masters of Education - University of Michigan 2005, Masters of School Improvement Leadership - Olivet Nazarene University 2009
What are your hobbies?
I love spending time with my family, reading and cross stitching, enjoying the outdoors. I am an active member of the Daughters of the American Revolution and senior leader fo the Children of the American Revolution.
What advice would you give to someone who wants to have a career like yours?
There are lots of fluxuations in the education system. Remember the reasons you love this job and got started in the first place. Don't let the politics etc. bog you down.
Expeditions
Sarah participated in the following Ocean Exploration Trust expeditions: