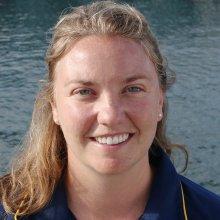 Sarah Burgess
Science Communication Fellow
Associate Director of Environmental Education
Philmont Scout Ranch, Boy Scouts of America
Sarah Burgess is a summer director of Environmental Education and STEM programming at Philmont Scout Ranch in Cimarron, NM. She trains educators and gives support to 12-21 day ecology-based backpacking treks in the Sangre de Cristo mountains of northern New Mexico. Sarah also designs curriculum for interactive STEM activities such as rock climbing, blacksmithing, shooting sports and challenge course events. She has worked as a marine science instructor and assistant director at Catalina Island Marine Institute, frolicking with marine mammals and students exploring the clear waters of Southern California. Sarah has also been the Sustainability Coordinator for Philmont and has enjoyed substitute teaching in her hometown schools.
Sarah Burgess graduated from Texas A&M University at Galveston in 2006 with a Bachelor's degree in Ocean & Coastal Resources.
"I think the best way to build awareness of conservation in our natural world is to bring a sense of adventure and exploration of that environment into a person's life firsthand. The ocean connects every person on the planet in one way or another, and I am stoked to get others stoked on STEM in the last wild frontier on Earth!" 
Expeditions
Sarah participated in the following Ocean Exploration Trust expeditions: