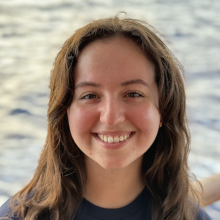 Sara Vahdatshoar
She/Her
Science/Data Team
Undergraduate
Temple University
Tell us about your work/research. What kinds of things do you do?
Since sophomore year, I worked in a deep-sea ecology lab analyzing video footage of the deep-sea (what you'll see live-streamed!) and exploring deep-sea coral phylogenetics (how different coral species evolved and are related to each other using their genetic codes) and morphology (the physical structure of corals). Each of these approaches allows us to understand how deep-sea corals support the ocean's ecosystem, which is why they are called ecosystem engineers. Without sunlight, deep-sea corals have many adaptations that make them different and unique, similar to the other animals that rely on them for shelter, feeding, etc. It is critical to continue studying how we affect these diverse and special communities, especially as climate change continues and exploitative practices, such as deep-sea mining, begin.
What sparked your initial interest in your career?
I have always been an environmentally conscious person, but I did not realize ecology and the marine sciences was a field I could pursue until after joining the only marine sciences lab at my university. I realized that the ocean's deep-sea ecosystems sustain the functioning of Earth, but there is little being done to protect them. Therefore, pursuing marine conservation was an easy choice. Learning that there are thriving animals and entirely unique and virtually untouched communities deep in the ocean excites me. Also, after living in North Philadelphia and volunteering with local students, I am passionate about increasing diversity in the sciences. Marine conservation innately benefits from concepts based in Indigenous aquatic stewardship, and I hope to work with Indigenous peoples to help strengthen their influence in marine conservation and policy.
Who influenced you or encouraged you the most?
I truly couldn't be more grateful for a diverse support system of professors, advisors, lab members, friends, and family that has encouraged me to persevere for the sake of our world. The fact that all living beings deserve to live on Earth in fairness and peace equally inspires me.
What element of your work/study do you think is the most fascinating?
Even though the ocean floor can look empty and simple, the complexity of deep-sea ecosystems and processes are fascinating! From how the water moves so deep down to how each organism can survive with such sparse food availability, the deep sea has many layers to unfold.
What other jobs led you to your current career?
Although I do not have a career solidified post graduation, working in different research laboratories has guided me towards marine science. First, I worked in a evolutionary phylogenetics lab as freshman, where I built skills in programming, scientific communication, scientific writing, and evolution. In the summer of 2022, I had the opportunity to work with oyster reef restoration in the Chesapeake Bay at Virginia Institute of Marine Sciences (VIMS). I studied how man-made oyster reefs compare to real oyster reefs in terms of animal diversity by hauling the reefs out of the water, collecting samples of the animals living on the reefs, then identifying those animals. Additionally, acting as leadership for a club promoting scientific accessibility in North Philadelphia has helped me expand my perspective of my goals and vision for the future of marine sciences.
What are your degrees and certifications?
Bachelor of Science in Ecology, Evolution, and Biodiversity -- Temple University, 2023
What are your hobbies?
I love walking around Philadelphia, cooking new recipes for others, weightlifting, playing Stardew Valley, and coaching my 17.5 lb cat through a weight loss journey (and babying her along the way).
What advice would you give someone who wants to have a career like yours?
The aquatic sciences are not necessarily accessible fields; most people who dive straight in (pun maybe intended) had the privilege in their early lives of living near and experiencing aquatic systems. My two words of advice are to 1) network and build universal skills early and 2) be yourself! I had no idea what I wanted to do besides science, but I built a foundation in programming and connected with people of all backgrounds and professions in my freshman year. When I finally realized my passion for marine sciences, I found myself with a support system/network to help me get there. Throughout the years, I also realized that being my full, authentic self has lead to more open than closed doors. You are your own best advocate, so work hard for the sake of making yourself proud and and for the sake of our Earth's health!
How did you get involved with the Ocean Exploration Trust?
My principal investigator of my lab recommended me to Ocean Exploration Trust based on my experience with deep-sea footage, identification, and operating on vessels. Despite the expedition beginning four days after I walk for graduation, I am deeply privileged and honored to experience my first cruise.
Expeditions
Sara participated in the following Ocean Exploration Trust expeditions: