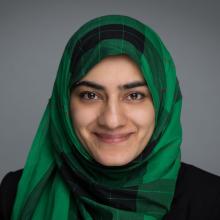 Sara Khalid
Science Team Member, Sharks Project
University Research Lecturer & Senior Research Fellow
University of Oxford
What is your history of engagement with the National Geographic Society?
I have another early career explorer award for tracking plastics from land to sea via Indus River in South Asia using machine learning and remote sensing
Tell us about your work/research. What kinds of things do you do?
I head the Planetary Health Informatics Lab at the University of Oxford. I am an engineer by training and an explorer by chance. At the PHI Lab, we explore big health data. We consider the health of humans and the planet as the two are connected. We use tools such as statistical models and Artificial Intelligence to discover patterns and trends in data. Our discoveries help to provide better insights into the health of individuals and diverse populations around the world. We work to make the prevention and treatment of illnesses better and to improve healthcare for all. In a rapidly warming world, when we think about health, we must also think about our changing environment, its impact on health, and how to mitigate and adapt to those changes. As an explorer, I mash up big health, environment, and climate data, and try to look at a more holistic picture of health problems and solutions close to nature.
What sparked your initial interest in your current career?
It all goes back to that first school trip down to the seaside in my hometown of Karachi to do some beach cleaning with friends and teachers. That we have an intrinsic, inseparable connect with our environment, that what we do to our environment comes back full circle, and that we must do what we can to salvage and sustain this beautiful symbiosis, is what planetary health is about. The concept is a fundamental part of my faith, and plays out in everyday life as a researcher, a storyteller, and a mother.
What element of your work/study do you think is the most fascinating?
The biggest influencers on my work is the future generation. To see the little ones care so passionately, so earnestly, and so unconditionally – there is a purity about that is my driving force. To play a small role in inspiring young creative minds to understand and use AI for good, be that improving health for all, or saving endangered species, there is nothing quite like it.
 
What other jobs or skills led you to your current position?
Even though I am an academic in my day job, I've done a few different things. For example, as a teenager, I was given the opportunity to visit Hiroshima along with other students from America, Pakistan, and India and meet with "Hibakusha" the survivors of the devastating WWII bombing by American forces. That left a lasting impression and the desire to work on "improving life for everyone". When I graduated in Electronics Engineering I worked with highly specialized communications hardware but soon realized my heart was in healthcare so I switched to biomedical engineering and did a PhD in using artificial intelligence for remote monitoring of patients at home and early detection of someone's risk of for example heart attacks or hospital admission. Visiting cities filled with mountains of plastic bottles and seeing children picking out potentially cancerous waste made me create an app for notifying authorities about illegal plastic dumps. Seeing that a lot of that plastic waste enters rivers and oceans the health of both humans and the planet, I came up with an idea to track plastic bottles from land to sea using artificial intelligence and remote sensing. That experience brought memories of beach-cleaning trips from my childhood and saddened me to see that many years on, our beaches and cities continued to be polluted. That inspired me to write a children's book called "What did the fish eat?" and I've also written some other books, mostly about connecting and protecting our environment, our planet, and ultimately our wellbeing.
What are your degrees and certifications?
PhD in Engineering Science (DPhil) - University of Oxford, UK 2014;
MSc (Oxon) Biomedical Engineering - University of Oxford, UK 2009,
Bachelors in Engineering (Electronics) - National University of Sciences and Technology, Pakistan.
What are your hobbies?
Hiking, writing stories for young readers, tree climbing with my children
What advice would you give someone who wants to have a career like yours?
My advice would be exactly as I was told by my dad when I was starting out and exploring options at a time when I wasn't quite sure what I wanted to do: "the world is your oyster"!  Learn more about my work and connect with me here: https://www.ndorms.ox.ac.uk/team/sara-khalid
Expeditions
Sara participated in the following Ocean Exploration Trust expeditions: