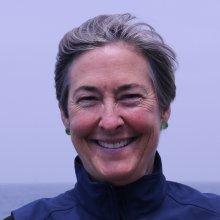 Sandra Whitehouse
Science/Data Team
Chief Scientific Officer
AltaSea
Tell us about your work / research. What kinds of things do you do?
I advise AltaSea on their scientific focus.
What sparked your initial interest in your career?
I grew up near the ocean and was always interested in marine biology.
Who influenced you or encouraged you the most?
My 7th-grade biology teacher who encouraged me to study science.
What element of your work / study do you think is the most fascinating?
I use my scientific expertise to advance ocean policies on the national level.
What other jobs led you to your current career?
I did research for a decade in Narragansett Bay, ran a regulatory agency (CRMC), advised the RI House of Representatives on their environmental policies and serve as the Senior Policy Advisor to Ocean Conservancy.
What are your degrees and certifications?
BS Biology, Yale, 1981, PhD Biological Oceanography, 1994
What are your hobbies?
ocean swimming