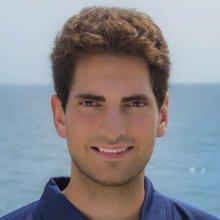 Sam Vohsen
Science/Data
Graduate Student
The Pennsylvania State University
Sam Vohsen is a PhD student in the Biology Program at the Pennsylvania State University. He currently studies the affects of oil and dispersant on deep-sea coral using metabolomics. He is also involved in research on coral bleaching in Caribbean Acroporids. In the past, Sam modeled the effect climate change might have on fish distributions in temperate streams.
Sam Vohsen graduated from Saint Louis University in 2013 with a dual-degree in Biology and Mathematics. He is now pursuing a PhD in Biology at the Pennsylvania State University.
"Learning about the discovery of life at the bottom of the sea and all of its strangeness got me interested in ocean exploration. I am excited to work aboard the Nautilus so I can help to complete our understanding of ocean life."
Expeditions
Sam participated in the following Ocean Exploration Trust expeditions: