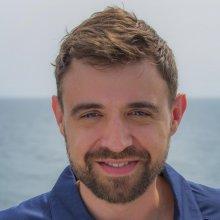 Ryan Sibert
Science/Data
Graduate Student
University of Georgia
Ryan Sibert is a second-year graduate student with the Joye Research Group, Marine Science Department, University of Georgia, Athens. Ryan's work is predominantly focused on Gulf of Mexico deep-sea microbial community structure, marine chemosynthetic symbioses, and microbial short-chain alkane metabolism. 
Ryan Sibert graduated from Western Michigan University in 2010 with a degree in Geology, again from Western Michigan University in 2012 with a MS in Geochemistry, and is currently in his second year of Ph.D. work with Dr. Samantha Joye at the University of Georgia. 
"The ocean floor may as well be the surface of Mars. We know very little about the terrain, the geology, the geochemistry, or the microbial communities in the deep biosphere. The Nautilus takes exploration of the ocean floor to a higher level than in years past."